Arsenal of Information
---
---
---
Dossiers:
Trump Admin and Nuclear Weapons Policy
Revolving Door: The Case of Heather Wilson
Kirtland AFB Nuclear Weapons Complex
LRSO: New Nuclear Cruise Missile
B61-12 Enhanced Nuclear Bomb
Marshall Islands Lawsuit
Nuke Lab Contractors Illegal Lobbying
MOX / Plutonium Disposition
CMRR-Nuclear Facility
UN Nuclear Weapons Ban Conference
Conference on the Humanitarian Impact
Nuclear Testing Since 1945
Fukushima Disaster and Updates
Atomic Histories
---
---

Nuclear Watch Interactive Map:
U.S. Nuclear Weapons Complex - View full size

Facilities:
Kansas City Plant
Lawrence Livermore National Labs
Los Alamos National Laboratory
Nevada National Security Site
Pantex Plant
Sandia National Laboratories
Savannah River Site
Washington DC
Waste Isolation Pilot Plant (WIPP)
Y-12 National Security Complex
---
Facility Spotlight:
Dec. 12, 2015. Kansas City Plant: Scores of workers have died after making nuclear weapons at the Bannister Road plant. A government review finds more radioactive materials used at the plant than was previously known. The federal government has paid $55 million to sickened workers, but a vast majority are still frustrated that they have not been compensated. (read more)
---

Nuclear Weapons Complex Misconduct
Dec. 3, 2015. POGO: Updated Federal Contractor Misconduct Database, focussing on Nuclear Complex (see report at POGO)
---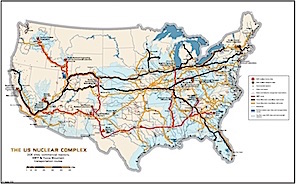 Click the image to download this large printable map of DOE sites, commercial reactors, nuclear waste dumps, nuclear transportation routes, surface waters near sites and transport routes, and underlying aquifers. This map was prepared by Deborah Reade for the Alliance for Nuclear Accountability.
---
Union of Concerned Scientists'
Nuclear Weapons Complex Interactive Map
The Union of Concerned Scientists has created an interactive map of the U.S. nuclear weapons complex sites in Google Earth, providing information, collected from public sources, about each facility. (more info, KML file, etc.)
---
Please help us in our work to rid the world of the dangers of nuclear weapons by making a donation!
---
Important Documents Related to the Nuclear Weapons Complex
---
NNSA Releases Performance Evaluation Reports in Response to Nuclear Watch FOIA Lawsuit
- View all PERs and PEPs
---
NNSA Stockpile Stewardship and Management (SSM) Plans:


FY 2016

FY 2015

FY 2014

---
NNSA's Ten-Year Site Plans, FY 2013- FY 2011
View all 10 Year Site Plans
---
December 2012: Nuclear Weapons Council W78/88 memo
September 2012 Navy W78/88 memo
Nuclear Watch FOIA Complaint (PDF) -March 28, 2012
---
Labs Directors' 2010 Letters to House Armed Services Committee - January 2010
---
LANL Frequently Asked Questions (FAQ) on Plutonium Pit Manufacturing Capacity -November, 2009

Republican Senators' Letter on Modernization and START Sent to President Obama -December 15, 2009

FY 2010-2014 Supplement To The Stockpile Stewardship Plan, NNSA - December 2009

Read the study, to which we contributed, that explored the possibility of consolidating the nuclear weapons complex:
Transforming the U.S. Strategic Posture and Weapons Complex For Transition to a Nuclear Weapons-Free World, Nuclear Weapons Complex Consolidation Policy Network*, April 2009
*The members of the Nuclear Weapons Complex Consolidation Policy Network include Nuclear Watch New Mexico along with national organizations: the Natural Resources Defense Council and the Project On Government Oversight; Tri-Valley CAREs, near the Lawrence Livermore National Lab; the Greater Kansas City Chapter of Physicians for Social Responsibility, near the Kansas City Plant; and JustPeace of Texas, near the Pantex Plant.

America's Strategic Posture-The Final Report of the Congressional Commission on the Strategic Posture of the United States [61KB] -May 2009

Reducing The Cost Of The U.S. Nuclear Weapons Complex, Testimony of Richard Garwin [278KB] -March 17, 2009

NNSA's FY 2008 Performance Evaluation Report for the Los Alamos National Security, LLC's Management and Operation of the Los Alamos National Laboratory, Performance Period: October 1, 2007 Through September 30, 2008

Final Complex Transformation Supplemental Programmatic Environmental Impact Statement (Complex Transformation SPEIS, DOE/EIS-0236-S4) [44.6MB] - October 2008

NNSA Guidance on Release of Documents under FOIA [11.5MB] - May 2008

Facts Vs. Claims about LANL's Role in Complex Transformation [152KB] -March 13, 2008

Nuclear Weapons Complex Transformation SPEIS (as a single, searchable PDF) [39MB] -January 2008

Radiological Effluents Released from U. S. Continental Tests 1961 through 1992 (DOE/NV_317), U.S. DOE [1.8MB] -August 1996

Linking Legacies- Connecting the Cold War Nuclear Weapons Production Processes to Their Environmental Consequences, U.S. DOE [18.6MB] -January 1997

Update Of The Probabilistic Seismic Hazard Analysis And Development Of Seismic Design Ground Motions At The Los Alamos National Laboratory (PSHA) Prepared for Los Alamos National Laboratory by Wong, el al, URS Corporation Seismic Hazards Group, [36.9MB] - 25 May, 2007

JASON Plutonium Pit Lifetime Report [404KB] -November 28, 2006

DOE/EIS-0350; Final Environmental Impact Statement for the Chemistry and Metallurgy Research Building Replacement Project at Los Alamos National Laboratory, Los Alamos, New Mexico [single 7.2MB PDF] -November 2003

Declaration of J Carson Mark (Regarding DARHT) [376KB] -October 20, 1995

Sustaining the Nuclear Enterprise [280 KB]

1993 Sandia Stockpile Lifetime Study [1.1M]

JASON Review of Remanufacturing Nuclear Weapons Components -Senior nuclear weapons scientists say pit lifetimes are now discussed as 60 to 90 years.

All comments on these documents, unless otherwise stated, are made by Nuclear Watch NM

Biological Weapons Convention Treaty
A White Paper: Pursuing a New Nuclear Weapons Policy for the 21st Century
by Paul Robinson, President and Director, Sandia National Laboratories
Managing the Nation's Nuclear Materials: The 2025 Vision for the Department of Energy (475kb)
Comments: NWNM / https://energy.gov/sites/prod/files/igprod/documents/CalendarYear2000/ig-0484.pdf Comments: Pat Ortmeyer: Women's Action for New Direction / DOE Audit Report: Management of the Nuclear Weapons Production Infrastructure, Sept. 2000 / Comments
December 2000 Physics Today article Science-Based Stockpile Stewardship by Raymond Jeanloz

Nuclear Weapons in the 21st Century (pdf. 139k) (2000, Steven Younger, now newly appointed head of Sandia Labs.) / Comments
NonProliferation Treaty - 1970 (NPT) (17k) / Comments
Final Document Issued by 2000 NPT Review Conference (99k) / Comments
Comprehensive Test Ban Treaty (CTBT) (275k) / Comments
The International Court of Justice Opinion on the Legality of Use or Threat of Use of Nuclear Weapons (125k) / Comments
Freedom of Information Act (34k) / Comments
Constitution of the United States of America (32k) / Comments