Guide to U.S. Nuclear Weapons Complex
---

Nuclear Watch Interactive Map:
U.S. Nuclear Weapons Complex - View full size

Facilities:
Kansas City Plant
Lawrence Livermore National Labs
Los Alamos National Laboratory
Nevada National Security Site
Pantex Plant
Sandia National Laboratories
Savannah River Site
Washington DC
Waste Isolation Pilot Plant (WIPP)
Y-12 National Security Complex
---
LANL Local Area Citizens Watchdog Groups:

Nuclear Watch New Mexico
Concerned Citizens for Nuclear Safety
---
FY 2017 Performance Evaluation Plan, Los Alamos National Security, LLC
---
---
Arsenal of Information
---
---
---
Dossiers:
Trump's Nuclear Posture Review
Flashpoint: North Korea
Flashpoint: NATO-Russia
UN Treaty to Prohibit Nuclear Weapons
Plutonium Pit Production at LANL
B61-12 Enhanced Nuclear Bomb
LRSO: New Nuclear Cruise Missile
Kirtland AFB Nuclear Weapons Complex
MOX / Plutonium Disposition
Fukushima Disaster and Updates
Nuke Lab Contractors Illegal Lobbying
Nuclear Testing Since 1945
Atomic Histories
---
---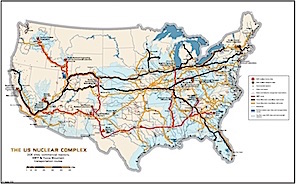 Click the image to download this large printable map of DOE sites, commercial reactors, nuclear waste dumps, nuclear transportation routes, surface waters near sites and transport routes, and underlying aquifers. This map was prepared by Deborah Reade for the Alliance for Nuclear Accountability.
---

Nuclear Weapons Complex Misconduct
Dec. 3, 2015. POGO: Updated Federal Contractor Misconduct Database, focussing on Nuclear Complex (see report at POGO)
---
In 1950, AEC officials secretly discussed closing Los Alamos Laboratory
In a declassified memorandum dated June 29 1950, the AEC's Walter Hamilton wrote: "The profits which might be gained by moving out of Los Alamos now might be more top scientists in the project, faster progress on weapons research projects, and financial economies which would free dollars for bombs instead of water wells and golf courses for Los Alamos. It's worth thinking about!"
View the complete memo (PDF)
---
---
Los Alamos National Laboratory
---
Description and Mission
The Los Alamos National Laboratory (LANL) in north central New Mexico was originally founded during World War II as the secret atomic weapons lab for the Manhattan Project. This wartime effort culminated in the "Trinity Test", the first atomic explosive device, detonated near Alamogordo, New Mexico on July 16, 1945, which was followed by the bombs dropped on Hiroshima and Nagasaki, Japan on August 6 and 9, 1945. After the war Los Alamos developed nuclear weapons, the modern 'H-bombs'.

Currently, five of the seven warhead types in the planned enduring stockpile are LANL designs. These are the B61 gravity bomb, the sub-launched W76, the W78 for intercontinental ballistic missiles, the W80 for sea-launched cruise missiles and the sub-launched W88.

The Business of Bombs: The University of California (UC) managed Los Alamos since the Lab's inception in 1942. However, in June 2006 Lab management was taken over by Los Alamos National Security, LLC; a for-profit corporation of partners that includes Bechtel National, UC, Babcock & Wilcox and URS. LANS LLC makes around $83 million in annual award fees (ten times UC's past fees). Overhead on LANL programs is just under 50% annually.

Despite public and political rhetoric about mission diversification at Los Alamos, funding for its nuclear weapons programs continues to be the overwhelmingly dominant budget item. The DOE has requested $1.9 billion for LANL in fiscal year 2013, of which $1.3 billion is for core nuclear weapons research and production programs (68% of the DOE request). There will be an estimated $300 million in funding from non-DOE sources, bringing the Lab's total institutional budget to around $2.2 billion (now surpassed by the Sandia Labs), of which 60% is directly for nuclear weapons, while many other programs indirectly support LANL's nuclear weapons programs.




Current Nuclear Weapons Missions at LANL:

- Research, design, development and simulated testing of nuclear weapons.
- Nuclear weapons Life Extension Programs.
- Limited production of plutonium pits (currently approved for up to 20 per year).
- Manufacture of nuclear weapon detonators for the stockpile.
- Capabilities for R&D and fabrication of enriched and depleted uranium components.
- Assessment and certification of stockpiled nuclear weapons.
- Tritium (radioactive hydrogen used to boost nuclear weapons) and high explosives R&D.
- Explosive hydrodynamic testing of surrogate plutonium pits.

LANL's Plutonium Complex: LANL's Technical Area-55 hosts Plutonium Facility-4 (PF-4), the only fully functioning plutonium facility in the US for pit production. These fissile pits are themselves atomic bombs, now used as the first stage or "primary" to trigger fusion in the "secondaries" of modern thermonuclear weapons. Within TA-55 and contiguous to PF-4 is the newly built first phase of the Chemistry and Metallurgy Research Replacement (CMRR) Project, the "Radiological Lab," and, if built, the future and highly controversial CMRR "Nuclear Facility".
- NukeWatch Fact Sheet: Plutonium Pit Production

The CMRR-Nuclear Facility controversy is ultimately about future mission diversification (or not) at LANL. Los Alamos should be diversifying its missions rather than further investing in the shrinking nuclear weapons business. Then perhaps the Lab could help better meet today's national security challenges, such as nuclear weapons proliferation, global climate change and energy dependence. In contrast, building the Nuclear Facility will further mortgage LANL's future to the receding nuclear weapons industry.
- See news archive for LANL CMRR

Some Brief Socioeconomics: According to 2010 Census Bureau data Los Alamos County's population is 76.3% "white persons, not Hispanic," while New Mexico is the only state with a 'minority' majority (59.5% of the state's population). Out of 3,142 counties in the country, Los Alamos County had the 2nd highest median household income. New Mexico has the fourth highest poverty rate in the country and the highest percentage (25.8%) of children living in poverty, while Los Alamos as a county has the lowest poverty rate in the country. Out of 50 states NM ranked 43rd in per capita income in 2010 ($33,267), down from 37th in 1959, despite the vaunted economic presence of the nuclear weapons industry in New Mexico.

Dark Legacy: Secret Cold War nuclear weapons activities have left a widespread legacy of contamination. Estimates for cleanup of this radioactive and hazardous waste contamination at LANL range from $2 to $30 billion or more. This wide spread has to do with the type of cleanup that the New Mexico Environment Department (NMED) will ultimately approve, following a public comment process, which ranges from 'cap-and-cover' to exhumation. DOE legally committed to cleanup decades worth of contamination across the Lab's 37-square-mile property by 2015 when it signed a Consent Order with the New Mexico Environment Department in March 2005. Precious taxpayer funds should be used to meet those cleanup obligations, not to build unneeded, new nuclear weapons production facilities.

Why is LANL Building BioSafety Level 3 Labs?
Aug 20, 2014- The Center for Public Integrity reports:
"Los Alamos National Laboratory is pushing forward a 2001 plan to build BSL-3 labs to work with disease germs like anthrax and tuberculosis, even though Los Alamos has not adequately explained what the facility would be used for or why it is needed, according to a report released last week by Department of Energy Inspector General Gregory Friedman.
"Friedman wrote that the $9.5 million proposal had been made without fully assessing the need for and cost effectiveness of the project, and that the DOE's National Nuclear Security Administration, which runs Los Alamos and other energy labs, 'needs to fully reassess its need for biological research facilities.'
"Richard Ebright, a professor of chemical biology at Rutgers University and a laboratory director at the university's Waksman Institute of Microbiology, said the DOE in particular has 'no mission that is relevant in any way, shape or form, directly or indirectly, to biological weapons agents. It has no need, directly or indirectly' for a BSL-3 lab."
Read the CPI report: Growing Number Of Biosafety Labs Raises Public Health Concern.
---
Recent Updates
For immediate release, October 27, 2017:
Santa Fe City Council: LANL Cleanup Order Must Be Strengthened & Expanded
and Plutonium Pit Production Suspended Until Safety Issues Are Resolved
Santa Fe, NM. On the evening of Wednesday October 25, the Santa Fe City Council passed a resolution requesting that the New Mexico Environment Department strengthen the revised Los Alamos National Labs cleanup order to call for additional characterization of legacy nuclear wastes, increased cleanup funding, and significant additional safety training. The resolution also called for the suspension of any planned expanded plutonium pit production until safety issues are resolved. (view/download full press release) (view/download City Council resolution)
---
NukeWatch fact sheet, September 26, 2017:
Expanded Plutonium Pit Production at LANL Will Not Result in Significant Positive Effect On Job Creation and the Regional Economy
The National Nuclear Security Administration's own documents have explicitly stated that expanded pit production would have no significant positive effect on job creation and the regional economy of northern New Mexico. Nuclear Watch argues that expanded plutonium pit production could actually have negative effect if it blocks other economic alternatives such as comprehensive cleanup, which could be the real job producer. Moreover, given LANL's poor safety and environmental record, expanded plutonium pit production could have a seriously negative economic impact on northern New Mexico in the event of any major accidents.
- (see fact sheet, Sept 26)
---
For immediate release: September 15, 2017:
Chromium Groundwater Contamination at Los Alamos Lab Far Greater Than Previously Expected; LANL's Treatment Plan Must Be Drastically Changed
Santa Fe, NM. The Los Alamos National Laboratory (LANL) has detected far more hexavalent chromium (Cr) contamination than previously estimated in the "sole source" regional groundwater aquifer that serves Los Alamos, Santa Fe and the Espanola Basin. Sampling in July from a new well meant to inject treated groundwater back into the aquifer detected chromium contamination five times greater than the New Mexico groundwater standard of 50 micrograms per liter (ug/L). (View/download the full press release) See Chromium Plume Map
Press:
- Further tests are needed after tainted well sample, officials say
Santa Fe New Mexican, September 19, 2017
- High chromium levels found at one Los Alamos well
Albuquerque Journal, September 18, 2017
- Mortandad Canyon chromium plume may be wider than expected
Los Alamos Monitor, September 18, 2017
- Cancer-causing chemicals appear to spread in regional aquifer near LANL
Santa Fe New Mexican, September 16, 2017
---
Sept. 7, 2017:
LANL Director Charles McMillan has announced he will retire at year's end

Los Alamos National Laboratory Director Charles McMillan, who has overseen New Mexico's largest scientific complex for six years amid a growing budget and expanded nuclear weapons work- but also at a time of numerous safety troubles at the lab, told his staff Tuesday morning that he will retire at the end of the year. The announcement comes during a transition to a new operator for the lab and in the wake of a federal investigation and congressional calls for more scrutiny regarding safety at LANL.
The U.S. Energy Department announced in 2015 it would not renew Los Alamos National Security's management contract because of a number of safety and security issues and the failure of the lab to receive satisfactory marks in annual evaluations by the National Nuclear Security Administration for several years. (See below: Center for Public Integrity's 6-part exposé: "Nuclear Negligence".)
Jay Coghlan, director of the watchdog group Nuclear Watch New Mexico, said, "We like to call him McMillion for the annual paycheck he was receiving while running the lab into the ground with an exploding radioactive waste drum at the Waste Isolation Pilot Plant and ongoing nuclear safety lapses at Los Alamos plutonium facility."
The lab's contract was put out for bid in late June, and the lab will be under new management by September 2018. Coghlan and others, including the University Professional and Technical Employees Union, have questioned the for-profit management model at the lab, which began when Los Alamos National Security was hired in 2006 to run LANL. The transition to for-profit management led to a jump in the labs annual budget and a significant boost in the directors annual salary. "He's the poster child for why the profit motive should not run nuclear weapons facilities," Coghlan said.
(sources: Rebecca Moss, Santa Fe New Mexican; Mark Oswald, Albuquerque Journal)
Also: Public Integrity's detailed report on the resignation
---
For immediate release: June 19, 2017:
Some Background on Plutonium Pit Production at the Los Alamos Lab
Santa Fe, NM -"The Washington Post has begun publishing a series of articles on nuclear safety lapses in plutonium pit production at the Los Alamos Lab. Plutonium pits are the fissile cores of nuclear weapons that when imploded initiate the thermonuclear detonation of modern weapons.
"Why expand plutonium pit production when apparently it can't be done safely and may decrease, not increase, our national security? One strong reason is the huge contractor profits to be had under the one trillion dollar-plus 'modernization' of the nuclear weapons stockpile and production complex initiated under Obama, which Trump promises to expand. Far from just 'modernization', existing nuclear weapons are being given new military capabilities despite denials at the highest levels of government..."
- View/download the full press release
- NukeWatch Fact Sheet: Plutonium Pit Production
---
June 18, 2017:
Repeated Safety Lapses Hobble Los Alamos National Laboratory's Work On The Cores Of U.S. Nuclear Warheads
First in the series "Nuclear Negligence", by Patrick Malone and R. Jeffrey Smith for the Center of Public Integrity. Simultaneously published in the Washington Post.




Los Alamos National Lab Plutonium Facility #4

Some excerpts:
"Los Alamos violated nuclear industry rules for guarding against a criticality accident three times more often last year than the Energy Department's 23 other nuclear installations combined, that report said. Because of its shortcomings, federal permission has not been granted for renewed work with plutonium liquids, needed to purify plutonium taken from older warheads for reuse, normally a routine practice."
"Moreover, a year-long investigation by the Center makes clear that pushing the rods too closely together in 2011 wasn't the first time that Los Alamos workers had mishandled plutonium and risked deaths from an inadvertent burst of radiation. Between 2005 and 2016, the lab's persistent and serious shortcomings in "criticality" safety have been criticized in more than 40 reports by government oversight agencies, teams of nuclear safety experts, and the lab's own staff."
"And these safety challenges aren't confined to Los Alamos. The Center's probe revealed a frightening series of glaring worker safety risks, previously unpublicized accidents, and dangerously lax management practices. The investigation further revealed that the penalties imposed by the government on the private firms that make America's nuclear weapons were typically just pinpricks, and that instead the firms annually were awarded large profits in the same years that major safety lapses occurred. Some were awarded new contracts despite repeated, avoidable accidents, including some that exposed workers to radiation."
First in the series "Nuclear Negligence" by Patrick Malone for the Center of Public Integrity. Simultaneously published in the Washington Post.
Updates:
* Statement from Frank Klotz, NNSA Administrator, regarding the CPI article and series.
- See also: NukeWatch Fact Sheet: Plutonium Pit Production

June 20: "Nuclear Negligence" Part Two
Safety Problems at a Los Alamos Laboratory Delay U.S. Nuclear Warhead Testing and Production
"Jerry McKamy, a former NNSA nuclear physicist and now a senior expert at the Defense Nuclear Facilities Safety Board, ...made it clear in a trade journal article last December that the nuclear complex's poor handling of criticality safety has been endemic."
"McKamy wrote that 'DOE and its contractors have repeatedly shown they are not capable of anticipating and preventing serious criticality safety problems.' They have persistently ignored 'written and credible warnings by criticality safety and management experts.'"
"A separate Defense Nuclear Facilities Safety Board report in February detailed the magnitude of the shortfall: Los Alamos' dangerous work, it said, demands 27 fully qualified criticality safety engineers. The lab has 10." (source)
---
For more Nuclear Watch NM resources please see:

- Background Paper: Plutonium Operations Space Requirements and Availability at LANL
- Your Tax Dollars at Work: Privileged Los Alamos Lifestyle Paid for by Weapons of Mass Destruction

LANL 101 Nuclear Watch New Mexico - Sept 26, 2014
---
LANL Resources

---
LANL Cleanup
LANL Consent Order Process Docs
LANL 10 Year Site Plan 2014

---
FY 2014 Performance Evaluation Plan, Los Alamos National Security, LLC
---
LANL's Central Mission
Los Alamos Lab officials have recently claimed that LANL has moved away from primarily nuclear weapons to "national security", but what truly remains as the Labs central mission? Here's the answer from one of its own documents:
LANL's "Central Mission"- Presented at: RPI Nuclear Data 2011 Symposium for Criticality Safety and Reactor Applications
(PDF) 4/27/11
---
April 12, AP reports:
Hanford nuke waste barrel on the way to WIPP ruptures; Federal Emergency Operations Center activated
A barrel of rad waste from Hanford Cold War pit production ruptured, contents unknown exactly "due to Cold War secrecy"; likely more barrels are at risk; these barrels are in transit to WIPP in New Mexico for long term storage. (read more)
---
Jan. 2018, New Book Released:
Los Alamos Revisited: A Workers' History
'The stories these workers tell are as complex as the Lab itself: the desire to help the war effort of the early recruits; the dangers of the bomb tests in the Pacific and Nevada test site; the near-fatal accidents they helped prevent onsite; the horrible illnesses they contracted as a result of their exposure to radiation and toxins; the financial ability to send their kids to college; and the retaliation they endured to expose mismanagement and corruption.'
Available from the author, Peter Malmgren, petermalmgrennm@gmail.com and (soon) at Amazon.
---
May 27, 2017:
Fire raises questions about Los Alamos National Laboratory's safety
A recent fire has put a national laboratory's ability to operate safely into question.
The Defense Nuclear Facilities Safety Board announced Friday that it will hold a hearing next month to discuss the future of the Los Alamos National Laboratory, the Santa Fe New Mexican reported. The board is an independent panel that advises the U.S. Department of Energy and the president.
A fire broke mid-April at the lab's PF-4 plutonium building, where the plutonium cores of nuclear weapons are produced. Lab officials said that the fire was put out quickly and caused only minor injuries.
According to the report, the board is unsure whether the lab is fit to continue to operate and handle increasing quantities of plutonium in coming years after a series of problems with management in maintenance and cleanup. Washington Post
---
June 7, Santa Fe, NM:
Understanding the Safety Posture of the Plutonium Facility at Los Alamos National Lab
Defense Nuclear Safety Board public hearing. In the wake of the plutonium building fire last month, questions of risk and safety as LANL prepares to accelerate plutonium pit fabrication.
5:00pm to 9:45pm, 201 West Marcy Street.
(Santa Fe Community Convention Center)
'The public is invited to attend and participate in the public comment portion of the meeting. Individuals interested in speaking during the public comment period are encouraged to pre-register by submitting a request in writing to hearing@dnfsb.gov or by telephone to the Office of the General Counsel at (202) 694-7062 or (800) 788-4016. Individuals may also submit written comments both prior to and at the hearing.' (more info)
---

From left: DOE Secretary Perry, LANL Director Charles McMillan, Plutonium Sciences' Jeff Yarbrough
May 10, 2017:
At Los Alamos, Perry vows clean-up effort at national labs
---
Feb 12, 2016:
FY 2017 budget on pit production at LANL
---
Jan 15, 2016:
National Nuclear Security Administration Gives Green Light For Expanded Plutonium Pit Production at Los Alamos
Jay Coghlan, Nuclear Watch Director, commented, "Expanded plutonium pit production at the Los Alamos Lab is really all about future new-design nuclear weapons with new military capabilities produced through so-called Life Extension Programs for existing nuclear weapons."
(details: see full press release)
---
Jan. 7, 2016, on the Watchblog:
Report: Federal Nuclear Safety Oversight at LANL Remains Drastically Understaffed
(story)
---
Jan. 2, 2016, Santa Fe New Mexican:
A History of Innovation and Dysfunction at Los Alamos National Laboratory
"...The electrical accident was the latest in a string of problems for LANS that include injured workers, improperly handled hazardous waste, missing enriched uranium, stolen tools and the public release of classified documents. The most costly incident occurred in 2014, when a container of radioactive waste repackaged at the lab later ruptured in the nation's only underground nuclear waste repository, contaminating workers and costing hundreds of millions of taxpayer dollars to clean up.
"Investigators say the problems stem from repeated management weaknesses, the kind that were supposed to get fixed when the Department of Energy turned to private industry in 2006 to oversee the lab...." (read more)
---
Dec 29, WIPP Fail Fallout:
NNSA Cuts LANL Contractor Award by 90%
"First-degree performance failure" - NukeWatch and POGO say management contract should be put out for bid... (View/download 12/29 press release)
---
Dec. 18, 2015:
LANL Mgmt. Contract Up For Bid After 2017
LANS failed to get the award term, a condition DOE had set for continuation of the LANL management contract beyond 2017. Low marks in the Operations and Infrastructure category sunk LANS chances for the award term.
(more: ABQJournal.com)
- On the Watchblog: Four Strikes and You're Out
- ABQJournal Dec 21: Accidents contribute to loss of contract for LANL operator
- Director McMillan's letter to LANL employees
---
DOE IG Blames LANL for WIPP Leak
In the fall of 2014, the Department of Energy's Inspector General published a scathing report on failures and cover-ups at LANL in the handling of radioactive waste for shipment to WIPP that resulted in the leak and site closure, for a DoE-estimated total cost of $500 million.
- DOE Inspector General LANL Report (PDF)
- Nov. 18: A detailed investigation by the Santa Fe New Mexican: "LANL officials downplayed waste's dangers even after leak"
---
Los Alamos National Lab Director McMillan
was paid $1.5 million in 'annual compensation'
That's up from the $800,348 director's compensation that the same records showed for 2009 and is nearly three times the LANL chief's compensation in 2006, the last year the lab was still run by the University of California. (ref)
---
---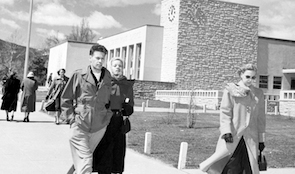 Atomic City, USA: how once-secret Los Alamos became a millionaire's enclave
Nov.1, 2016. "Home to the scientists who built the nuclear bomb, the company town of Los Alamos, New Mexico is today one of the richest in the country- even as toxic waste threatens its residents and neighboring Española struggles with poverty."
A special "cities" report from The Guardian.
---