Arsenal of Information
---
---
---
Dossiers:
Trump Admin and Nuclear Weapons Policy
Revolving Door: The Case of Heather Wilson
Trump Admin and Nuclear Weapons Policy
Revolving Door: The Case of Heather Wilson
Kirtland AFB Nuclear Weapons Complex
LRSO: New Nuclear Cruise Missile
B61-12 Enhanced Nuclear Bomb
Marshall Islands Lawsuit
Nuke Lab Contractors Illegal Lobbying
MOX / Plutonium Disposition
CMRR-Nuclear Facility
UN Nuclear Weapons Ban Conference
Conference on the Humanitarian Impact
Nuclear Testing Since 1945
Fukushima Disaster and Updates
Atomic Histories
---
Nuclear Watch Interactive Map of the
Nuclear Weapons Complex
View full size
Facilities:
Kansas City Plant
Lawrence Livermore National Labs
Los Alamos National Laboratory
Nevada National Security Site
Pantex Plant
Sandia National Laboratories
Savannah River Site
Washington DC
Waste Isolation Pilot Plant (WIPP)
Y-12 National Security Complex
Facility Spotlight:
GAO Blasts Lack of Whistleblower Protection at Nuclear Facilities
"The GAO's findings of abysmal whistleblower protection at the Department of Energy are not by accident or coincidence. DOE whistleblower retaliation is historic, systemic and by design, seeking to suppress public knowledge of the inside secrets of the dirty nuclear weapons business. Now is the time for serious oversight and a realistic approach to these issues in order to stop an emerging arms race and avoid wasting billions of dollars we cannot afford." -Jay Coghlan, executive director, Nuclear Watch New Mexico (McClatchy: Department of Energy fails to protect nuclear whistleblowers) / (read more)
---

Nuclear Weapons Complex Misconduct
Dec. 3, 2015. POGO: Updated Federal Contractor Misconduct Database, focussing on Nuclear Complex (see report at POGO)
---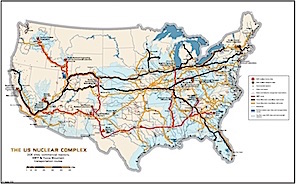 Click the image to view and download this large printable map of DOE sites, commercial reactors, nuclear waste dumps, nuclear transportation routes, surface waters near sites and transport routes, and underlying aquifers. This map was prepared by Deborah Reade for the Alliance for Nuclear Accountability.
Quote of the Week

---
"I have no doubt the proposal to research low-yield nuclear weapons is just the first step to actually building them. I've fought against such reckless efforts in the past and will do so again, with every tool at my disposal. There's one role- and only one role- for nuclear weapons, and that's deterrence. We cannot, must not, will not ever countenance their actual use. There's no such thing as limited nuclear war, and for the Pentagon's advisory board to even suggest such a thing is deeply troubling."
- Sen. Dianne Feinstein of California, Feb 2, 2017
(ref)
---

Dossier:
The Kirtland AFB Nuclear Weapons Complex
Kirtland Air Force Base, which abuts and shares some runways with the Albuquerque airport, has become a major nuclear weapons complex of it's own. It hosts the Air Force's Nuclear Weapons Center, Sandia National Laboratories, and what is probably the nation's (and perhaps the world's) largest repository of nuclear weapons, estimated at up to 2,500 warheads... (read more)
---
Follow the Money!

---
NNSA FY 2017 Budget Request
- Nuclear Watch Analysis/Compilation (PDF)
---

LANL FY 2017 Budget Request
Click to view full PDF incl. annotations
---
Lawrence Livermore FY 2017 Budget Request


For Livermore Lab, Nuclear Weapons Activities still dominate the budget, increasing to over 86%.
Chart by Tri-Valley CARES
---
Congressional Budget Office report:
Projected Costs of Nuclear Forces 2014-2023

CBO presentation based on the report:


Click to view presentation
---
Stockpile Stewardship and Management Plan
- View/Download FY 2017 SSMP (PDF)
-SSMP Analysis of Hans Kristensen, FAS: Nuclear Transparency and the Stockpile Stewardship and Management Plan (PDF)
- View/Download FY 2015 SSMP (PDF)
- NWNM Analysis (PDF) / Analysis Summary (PDF)
---
Nuclear Watch Media
---
KUNM FM: LANL's Long Environmental Cleanup
KUNM public radio discussion of Los Alamos cleanup, and Nukewatch lawsuit Archived podcast here
---
Jay Coghlan, Nukewatch Director Interview
Earth Matters Radio re legacy of the US nuclear weapons program on the 70th anniversary of the Hiroshima/Nagasaki bombings. Thursday Aug 6 at 10 am and 8 pm on 89.1FM. Archived podcast here
---
NukeWatch YouTube Channel
See our playlists of key video clips.
---
Chuck Montaño
---
June 12 OpEd, ABQ Journal:
- Public kept in dark over LANL

- Letter to House Subcommittee on Oversight requesting resumption of its investigation into sudden terminations of LANL fraud investigators in view of new evidence and testimony: view/download PDF

- US Justice Dept. Needs To Investigate Los Alamos Cover-Up: A petition requiring officials to stop ignoring retribution against whistleblowers that is standard practice at Los Alamos National Laboratory.



POGO Book Review:
- Once Upon a Time in Los Alamos

Los Alamos: A Whistleblower's Diary, by Chuck Montaño, 2015. (More info)

April 21, Los Alamos Daily:
Chuck Montaño was given the ANA Whistleblower award in Washington DC: (story)

Chuck Montaño serves on Nuclear Watch New Mexico's Steering Committee.
---
Successful Citizen Activism Against
Expanded U.S. Plutonium Pit Production
This is the unsung story of successful citizen activism against repeated government attempts to expand the production of plutonium pit cores, which has always been the choke point of resumed U.S. nuclear weapons production. This history is a critical part of the march toward a future world free of nuclear weapons. We gratefully dedicate it to Leroy Moore, longtime activist with the Rocky Mountain Peace and Justice Center, and J. Carson Mark, retired director of the Los Alamos Lab's Theoretical Division and ardent arms control advocate.
(View/download full report- PDF)
July 14, 2016:
Debate Is On Over Making More Nuclear Triggers At Los Alamos Lab
"The National Nuclear Security Administration is under orders from Congress to produce as many as 80 new nuclear weapons triggers a year by around 2030, and Los Alamos National Laboratory is the only place in the country that is equipped to make them now... The plans for a higher-capacity plutonium pit production facility make Los Alamos key - some call the lab 'ground zero'..." (ref: Albuquerque Journal)

April 23, 2015: NukeWatch Fact Sheet:
"Plutonium Pit Production at LANL"
(View/download PDF)
---
Nuclear Risk, 2016:
"Imagine that a man wearing a TNT vest were to come into the room and, before you could escape, managed to tell you that he wasn't a suicide bomber. He didn't have the button to set off the explosives. Rather, there were two buttons in very safe hands. One was in Washington with President Obama and the other in Moscow with President Putin, so there was nothing to worry about. You'd still get out of that room as fast as you can! <
"Just because we can't see the nuclear weapons controlled by those two buttons, why do we stay here? As if confronted by that man, we need to be plotting a rapid escape. Instead, we have sat here complacently for over 50 years, trusting that because Earth's explosive vest hasn't yet gone off, it never will. If you agree that it's high time we stopped sitting around and started solving this problem, please read on-" NuclearRisk.org.
---
What is both sobering and addictive?
This "Wheel of Near Misfortune" created by Union of Concerned Scientists- don't miss it!
---

What would happen if an 800-kiloton nuclear warhead detonated above midtown Manhattan?
You should read this.
---
Recent visitors - click to enlarge
---
Help us boost public awareness of the reality and risks of nuclear weapons today. Please share Nukewatch.org with your friends using the buttons below:
---
"If you really want a future world free of nuclear weapons, you can hardly make a better investment than to give to Nuclear Watch New Mexico. They need and deserve your support so that they can carry on their groundbreaking work. I urge you to be generous with them!" - Danielle Brian, Executive Director, Project on Government Oversight.
Please support our work!
Remember, donations are tax-deductible.
New & Updated

---
Where will the Trump Administration Take US Nuclear Weapons Policies?
The new administration's attitude and policies on nuclear weapons are clearly a work in progress. Trump's own pronouncements on the subject have been spotty and sometimes contradictory. He has called for a new Nuclear Policy Review to be delivered later this year. The last NPR was done in 2010.
President Trump's perceived enthusiasm for upending the status quo, along with a lack of clear indications where he wants to take it, have invited influencers to try and guide his developing policies. Certain quarters are pressing for production of 'more usable' nukes- tactical nuclear weapons for battlefield use... read on at our dossier on the developing Trump admin nuclear policies)
---
Pres. Trump promised to "drain the swamp".
Then why did he nominate Heather Wilson for Air Force Secretary?
February 8, 2017
Patrick Malone at the Center for Public Integrity has done an extensive report on the shenanigans of Heather Wilson, Pres. Trump's nominee for Air Force Secretary, and perhaps the most egregious example of the Congressional-Contractor-Lobbyist-Regulator complex, what Trump himself called "the swamp" which he promised to "drain". Published February 8, 2017 at both Politico and the CPI website, with the latter version including emails between Wilson and Lockheed's subsidiary Sandia Corp. (For more info and history, see the NukeWatch dossier on Heather Wilson)

Air Force Secretary Nominee Helped A Major Defense Contractor Lobby For More Federal Funds
Feb 8, Patrick Malone, Center for Public Integrity:
"Even though Trump promised during the presidential campaign to "drain the swamp" of Washington power brokers that use knowledge gained in public office to pursue private gains, dozens of internal Lockheed and Sandia emails involving Wilson make clear that she is practiced at doing just that."
"When New Mexico Rep. Heather Wilson left Congress in 2009, she went to work the same month as a paid consultant for a subsidiary of weapons-contracting giant Lockheed Martin. That company then capitalized on Wilson's extraordinary familiarity with Washington to craft a lobbying strategy meant to avoid having to compete for the renewal of a government contract that brought in huge profits...
"The strategy relied on discrete meetings between Lockheed officials and powerful members of the fledgling Obama Administration, key members of Congress, and influential Washingtonians who had also passed through the revolving door between government and private industry...
"Wilson, a Republican who had spent four years on the House Armed Services Committee and six years on the Intelligence Committee, spent five months drawing up a roadmap for Lockheed to achieve its key objective: Renewing its existing contract to manage Sandia National Laboratories, a wholly-owned subsidiary that helps make nuclear weapons and has an annual budget of more than $2 billion, without having to compete with any other firm- unlike most federal contractors...
"The Sandia contract was one of three that Wilson executed between 2009 and 2011 with the private firms that produce nuclear weapons. In addition, she collected $195,718 from the privately-run Los Alamos National Laboratory, for whom she arranged meetings with and visits by "senior federal officials who had the ability to impact both funding and future work at the Laboratory in the intelligence arena," according to the 2013 IG report...
"She was also paid $2,500 to attend each of three business meetings at the privately-run Oak Ridge National Laboratory; she also was paid additional funds by the privately-run Nevada Test Site, to advise them about future business opportunities, that report said...
"Public scandal surrounded all of these contracts, once the June 2013 Inspector General report was published. It said none of the invoices that Wilson's firm had sent to the laboratories contained sufficient detail to conclude she actually provided all the services the firm promised to supply. Bills sent for $10,000 a month lacked 'details as to the time expended and nature of the actual services' the firm performed...
"In February 2013, then-House Speaker John Boehner appointed Wilson to the Congressional Advisory Panel on the Governance of the Nuclear Security Enterprise, meant to critique and suggest improvements in the way the government does business with nuclear weapon contractors- including the four that had hired Wilson's firm.
"Wilson's appointment got the attention of an anti-nuclear watchdog group in her home state, Nuclear Watch New Mexico. Wilson ignored pleas by the group's executive director, Jay Coghlan, to step down from the congressional commission over the perceived conflict of interest. The panel recommended that Washington sharply scale back its regulation and oversight of all the nuclear weapons laboratories..."
- Read the full Public Integrity article, with many more details, including the emails exchanged between Wilson and Lockheed's subsidiary Sandia Corp.
- A version of Malone's article also appears in Politico on the same day (without the emails).
- See the NukeWatch dossier on Heather Wilson
---
Doomsday Clock Reset To 2 1/2 Minutes to Midnight
"In 2016, the global security landscape darkened as the international community failed to come to grips with humanity's most pressing threats: nuclear weapons and climate change."
"This is the closest to midnight that the clock has been since 1953... Last year, and the year before, we warned that world leaders were failing to act with the speed and on the scale necessary to protect citizens from the extreme dangers posed by climate change and nuclear war. During the past year, the need for leadership intensified but was met with inaction and brinkmanship.
"Making matters worse, the United States now has a president who has promised to impede progress on both of those fronts. Never before has the Bulletin decided to advance the clock largely because of the statements of a single person. But when that person is the new president of the United States, his words matter...." (view/download full statement PDF)
---
Mikhail Gorbachev: "It all looks as if the world is preparing for war."
Jan 26, 2017, Time Magazine, excepts:
"The world today is overwhelmed with problems. Policymakers seem to be confused and at a loss. But no problem is more urgent today than the militarization of politics and the new arms race. Stopping and reversing this ruinous race must be our top priority.
"The current situation is too dangerous.
More troops, tanks and armored personnel carriers are being brought to Europe. NATO and Russian forces and weapons that used to be deployed at a distance are now placed close to each other, as if to shoot point-blank.
"Politicians and military leaders sound increasingly belligerent and defense doctrines more dangerous. Commentators and TV personalities are joining the bellicose chorus. It all looks as if the world is preparing for war.
"Today the nuclear threat once again seems real. Relations between the great powers have been going from bad to worse for several years now. The advocates for arms build-up and the military-industrial complex are rubbing their hands.
"We must break out of this situation. We need to resume political dialogue aiming at joint decisions and joint action. The focus should once again be on preventing war, phasing out the arms race, and reducing weapons arsenals. The goal should be to agree, not just on nuclear weapons levels and ceilings, but also on missile defense and strategic stability.
"In the modern world, wars must be outlawed, because none of the global problems we are facing can be resolved by war- not poverty, nor the environment, migration, population growth, or shortages of resources...
"I propose that a Security Council meeting at the level of heads of state adopt a resolution stating that nuclear war is unacceptable and must never be fought... " (read the full op-ed at Time online)
---
As Trump Seeks to Expand U.S. Nuclear Weapons Capabilities,
New Sandia Labs Director Argued for Expanded Use of Nuclear Weapons
January 26, 2017:
Santa Fe, NM. On December 22, 2016 president-elect Donald Trump upended four decades of U.S. policy to reduce nuclear weapons by tweeting "the United States must greatly strengthen and expand its nuclear capability until such time as the world comes to its senses regarding nukes." The next morning he doubled down by declaring, "Let it be an arms race. We will outmatch them at every pass and outlast them all."
One of the most important players in the trillion dollar nuclear weapons upgrade is the Sandia National Laboratories, with its newly appointed director Stephen Younger. Long before Trump, Younger argued for the expanded use of nuclear weapons, writing in his June 2000 paper "Nuclear Weapons in the 21st Century", "it is often, but not universally, thought that nuclear weapons would only be used in extremis, when the nation is in the gravest danger.....This may not be true in the future." (P. 2)
Although "deterrence" has been sold to the American taxpayer for decades as the rationale for nuclear weapons, in reality the U.S. (and Russian) arsenal is for nuclear warfighting, as a 2013 top-level Pentagon document explicitly states:
"The new guidance requires the United States to maintain significant counterforce capabilities against potential adversaries. The new guidance does not rely on a "counter-value' or "minimum deterrence" strategy." (more- view download full press release PDF)
NB. For an advocacy piece arguing for minimal deterrence, please see Counterforce: FAS Report 2009.pdf
---
Disclosure of Trident Missile Launch Gone Awry Causes a Furor in UK
The Sunday Times broke the story of the June 2016 test launch from HMS Vengeance off the coast of Florida.
"Reports state that the missile was meant to fly over 5,600 miles to a target off the coast of Africa, but instead went awry, flying in the complete opposite direction towards the US. The Times reports that the failure caused massive disruptions at the highest levels of government in London, and Downing Street decided to cover up the results of the test through deep classification. The cause remains top secret, the paper adds, but quotes a senior naval source as saying the missile suffered an in-flight malfunction after launching out of the water. The Times said the missile was not armed with a nuclear warhead but contained a small amount of explosives. which were detonated when the order was given to abort.
(ref) / (ref)
The furor concerns the fact that replacement of the Trident system was up for a vote in Parliament in July, one month after the incident, which was not disclosed at the time. The Scottish National Party and some of the Labour Party opposed replacement. By July, the UK had voted for Brexit, PM Cameron had resigned, Theresa May had taken over, and she gave a strong speech at Parliament in support of Trident renewal, which was approved. The Campaign for Nuclear Disarmament (CND) described reports of a misfire as a "very serious failure". "There's absolutely no doubt that this would have impacted on the debate in Parliament on Trident replacement," General Secretary Kate Hudson said. "Nuclear weapons technology is not 100% failsafe. In so many ways it is a disaster waiting to happen, the consequences of which are too terrible to comprehend," she added.
Caroline Lucas, co-leader of the Green Party of England and Wales, called for "full disclosure", adding: "A missile veering off course is deeply concerning. Imagine such a failure occurring in a 'real-world' situation - it could lead to the slaughter of millions of people in an ally's country." (ref)
On January 22, Theresa May was asked four times in a TV interview if she knew about the failure at the time of the debate in Parliament, and refused to answer.

Was the Trident hacked?
The UK government's deep classification, and later stonewalling on the story, may simply have been down to the parliamentary vote; however it should be noted that among the worries of those concerned about the hacking of weapons systems- in fact one of the worst nightmares- is an unauthorized launch or an inflight re-targeting of an armed missile toward an ally or self. Reports on this danger (see below) usually end with an expert saying there's nothing to worry about because the Trident system isn't on the internet- there's an "air gap"; the only vulnerability being when the sub is in port undergoing repairs and computer upgrades. (see: "Trident Software To Be Revised Over Hacking Fears")
But HMS Vengeance was in fact in port undergoing upgrades to its computer systems just 6 months before the incident: "HMS Vengeance, one of the UK's four Vanguard-class submarines, returned to sea for trials in December 2015 after a £350m refit, which included the installation of new missile launch equipment and upgraded computer systems."- (BBC)
And Paul Ingram, the executive director of the British American Security Information Council, said telemetric data suggests either a manual inputting problem or a software one rather than a failure on the part of the rocket engine.
Earlier reports:
- March 2016: Trident software to be revised over hacking fears - Nuclear system to be updated to protect against possibility of cyber-attack.
- January 2016: 'Trident is old technology': the brave new world of cyber warfare - Forget debates about Britain's nuclear deterrent. New technology means a country can be brought to its knees with the click of a mouse.
- January 2016: Britain's Doomsday Nuke Subs Still Run Windows XP - The fate of the country's nukes is in the hands of an obsolete operating system.
- Nov. 2015: Trident nuclear weapons could be hacked- Britain's biggest deterrent faces terrifying risk of cyber-attack.

January 24, 2017, The Times:
US urged Britain to keep Trident blunder secret
Obama administration 'feared missile failure put American nuclear deterrent at risk'. (ref)
(The US submarine fleet uses the Trident missile as well. The US Navy plans on continuing to upgrade the Trident II, allowing the type to serve for decades to come. Additionally, the Columbia class nuclear ballistic missile submarines that are slated to replace the Ohio class in the coming decades are being designed around the missile. These new SSBNs are intended to serve well into the second half of the century.) (ref)
---
Legislation Introduced: Restricting First Use of Nuclear Weapons Act of 2017

January 24, 2017:
Washington DC. Today, Congressman Ted W. Lieu (D- CA) and Senator Edward J. Markey (D-Mass) introduced H.R. 669 and S. 200, the Restricting First Use of Nuclear Weapons Act of 2017. This legislation would prohibit the President from launching a nuclear first strike without a declaration of war by Congress.
Senator Markey said, "In a crisis with another nuclear-armed country, the current policy drastically increases the risk of unintended nuclear escalation. Neither President Trump, nor any other president, should be allowed to use nuclear weapons except in response to a nuclear attack. By restricting the first use of nuclear weapons, this legislation enshrines that simple principle into law. I thank Rep. Lieu for his partnership on this common-sense bill during this critical time in our nation's history." (ref)
---
Nuclear Watch Assails Revolving Door Between NMED and Polluters
January 17, 2017:
Santa Fe, NM. New Mexico is faced with a ~$70 million budget deficit; to remedy the shortfall, Gov. Martinez plans to take $120 million from public school reserves, cut retirement accounts, higher education, etc.
But the budget shortfall would have been amply covered had the New Mexico Environment Dept. aggressively fined polluters. Why didn't they? Maybe it has something to do with the breezy revolving door between the NMED and the polluters it is charged with regulating.
For one example, Ryan Flynn was the Secretary of the New Mexico Environment Department until resigning last August. He immediately became the Executive Director of the New Mexico Oil and Gas Association, whose main purpose is to lobby on behalf of the oil and gas industry against environmental regulations...
And there is more- much more... Read the full press release for all the details.
"The New Mexico legislature should hold New Mexico Environment Department's feet to the fire so that New Mexicans have a real environment department that protects our precious water resources and creates jobs doing so." (press release PDF)
---
Except from "Containment", at PBS
PBS Independent Lens presents "Containment"- the problem of nuclear waste
We've made thousands of tons of the deadliest materials in existence, and it will remain deadly for 100,000 years and more... what are we going to do with it all?
Watch The full film online now at PBS

January 24:
Will Rick Perry Privatize America's Nuclear Waste Storage?
Ashley Dejeanjan for Mother Jones, Jan 24, 2017
---
January 03, 2017:
Radioactive contamination spreading in Hanford nuclear plant
"Radioactive contamination is spreading inside a deteriorating processing plant on the Hanford Nuclear Reservation last used in the 1950s and 1960s to process plutonium for the U.S. nuclear weapons program. ...Signs of animal intrusion and deteriorating asbestos... No one has entered the main part of the plant since 1997. (ref)
EnviroNews; from a 15-part series, "Nuclear Power in Our World Today"- with Arnie Gundersen.
How DOE Incentivized Execs at Hanford To Sweep Plutonium Leak Under Rug
Hanford: "The sheer magnitude of the impact on the environment is staggering, resulting in nearly incomprehensible numbers- numbers like: 270,000,000,000 gallons of contaminated groundwater, 25,000,000 cubic feet of buried or stored solid waste, 2,300 tons of spent nuclear fuel, 20 tons of plutonium-bearing materials, and 53,000,000 gallons of waste in 177 underground storage tanks. This waste is the legacy of more than five decades of plutonium production, making it easy to see how Hanford became the largest, most complex environmental cleanup effort in the world." (ref)
---
NNSA Releases Los Alamos Lab Performance Evaluation Report;
Nuclear Criticality Safety Issues Still Not Fully Resolved
January 5, 2017:
Santa Fe, NM. The National Nuclear Security Administration (NNSA) has publicly released its fiscal year 2016 Performance Evaluation Report (PER) for Los Alamos National Security, LLC (LANS), the for-profit contractor that runs the Los Alamos Lab. The Performance Evaluation Report is NNSA's annual report card on contractor performance, and overall the agency awarded LANS $59 million in profit out of a possible $65 million. The grade was 85% for the incentive part of the award. In 2012 Nuclear Watch New Mexico successfully sued NNSA to ensure that the Performance Evaluation Reports detailing taxpayers funds paid to nuclear weapons contractors are publicly available. In 2016 the NNSA decided to put the LANL management contract out for competitive bid, but granted LANS a contract extension until the end of September 2018.
Despite the passing grade that NNSA gave LANS, there is still ample reason for public concern. First, it bears repeating that in February 2014 a radioactive waste drum improperly prepared by the Los Alamos National Laboratory (LANL) burst underground at the Waste Isolation Pilot Plant (WIPP), contaminating 21 workers and closing that multi-billion dollar facility (a limited restart of operations at WIPP may occur this month).
Less widely known is the fact that LANL's main plutonium facility that produces WIPP wastes has only recently restarted operations after being shut down since June 2013 because of nuclear criticality safety concerns... (read full press release)
See also Santa Fe New Mexican, January 4, 2017:
LANL Improves In Annual Federal Evaluation; Safety, Waste Issues Persist
---
How Close Do You Live to a Nuclear Bomb?
That's right, New Mexico residents, there are some 2000 nuclear bombs stored in an underground bunker complex only a couple miles from the runways of the Albuquerque international airport. See a photo of some of them here and read about what else nuclear goes on at Kirtland AFB.
---
William Perry: The nuclear danger today is more acute than at any time since the Cuban Missile Crisis
Dec. 5. Former Secretary of Defense William Perry told the Santa Fe audience, "The nuclear danger today is more acute than at any time since the Cuban Missile Crisis of 1962."
"I don't see the threat being that any nuclear country simply would deliberately attack us. I see the danger, really, blundering into nuclear war, an accidental war or by miscalculation; or the danger of nuclear terrorism. Those are the threats as I see them... [Regarding] an accidental war, I've recommended that we not rebuild our ICBMs, that we phase them out, because the ICBMs are the primary vehicle through which we could have an accidental nuclear war. More generally, I've argued that we should find ways of healing the rupture that we have with the Russians today... its very important that we do that and we aren't doing that today... and since they have the most nuclear weapons of any nation in the world, its very important that we don't get involved in a situation that could lead either country to blunder into some kind of military conflict which might escalate into a nuclear war. So the stakes are very high with Russia and we need to get that straight."
Listen to KSFR's audio interview with Perry
---
NukeWatch gets a Santa Fe Mayor's Award
In addition to our work toward limiting and ultimately eliminating nuclear weapons, NukeWatch also works to protect Northern New Mexico aquifers from the radioactive wastes dumped over the last 70 years of atomic bomb production at Los Alamos Lab.

This week, Nukewatch was given the Santa Fe Mayor's Sustainability Award in the category of Environment for that work. (more)

Above: Scott Kovac, Jay Coghlan, Mayor Javier Gonzales
---
Cleanup Lawsuit: NukeWatch v. DOE, LANS


See all docs related to the ongoing Nuclear Watch lawsuit against DOE and LANS (the corporate manager of Los Alamos Lab), over multiple missed deadlines and failures to execute cleanup of radioactive wastes at the Los Alamos site: Cleanup Lawsuit.
---
---
Critical Events

---
Help stop high-level radioactive waste dump
Feb. 23, Rockville Maryland:
1-4pm Eastern; NRC will hold an environmental scoping public comment opportunity, accessible by call-in teleconference and/or Webinar (in-person attendance is also an option for those near enough NRC's HQ in Rockville, MD).
NRC's Webinar link will go live in real time. The toll free call-in/teleconference number is (800) 619-9084; Passcode 3009542.
Waste Control Specialists (WCS) in West Texas has applied to the U.S. Nuclear Regulatory Commission (NRC) for a license to construct and operate a "centralized interim storage facility" for 40,000 metric tons of highly radioactive, commercial irradiated nuclear fuel (or HLRW, high-level radioactive waste, for short), more than half of what exists in the U.S.
This de facto permanent parking lot dump would launch 4,000 high-risk Mobile Chernobyl train car shipments, traveling through most states (click here to see map of potential transport routes).
(more info here)
---
February 27, 2017, Santa Fe, NM
Uranium Workers' Day
New Mexico State Capitol
Santa Fe Trail and Paseo de Peralta
Beginning at 12 noon: press conference in the Rotunda with former miners and workers and people from the impacted communities. Educational displays and information will be available in the East Hall of the Rotunda. Twenty-four organizations have cosponsored the event; speakers will include Navajo Nation President Russell Begaye.
Legislative actions: Senator Pinto has introduced SM 85 and Representative D. Wonda Johnson has introduced HM 40 in the NM Legislature calling for expanding compensation for all uranium workers and downwinders in the Radiation Exposure Compensation Act (RECA) proposed amendments....
More info
Contact: Susan Gordon, coordinator, Multicultural Alliance for a Safe Environment:
susangordon@earthlink.net
---
March 15, 2017, San Francisco:
Marshall Islands v. USA Court of Appeals Oral Arguments
9:00 A.M. - Courtroom 3
---
1st Session, Nuclear Ban Treaty Negotiations
United Nations, NYC
March 27-31
Related Events:
March 25-26: Campaigner meetings , NYC
View/download PDF booklet prepared by ICAN explaining the potential impact of the treaty, and how the negotiations have come about.
More info at ICAN

2nd Session, Nuclear Ban Treaty Negotiations
United Nations, NYC
June 15 - July 7
Related Events:
June 18: Women's March to Ban the Bomb (info)
More info at ICAN
---
Still available online:
February 16, 2017, archived and available online
Debate: European Missile Defenses for NATO
- The webcast is archived online
Ongoing, in case you missed it:
"Command and Control" can be seen online
(watch the film)
---
Newsletters and Calendars
---
- The Bulletin's Nuclear Roundup
Daily nuclear news; subscribe or view online. Very good selection.
- Ploughshares' Early Warning
"Daily news on the issues we're following from the desk of Joe Cirincione." Subscribe or view online.
- Nuclear Policy News (CSIS)
Subscribe or view online. Very good selection.
- Nuclear Calendar FCNL
Extensive email listing of all nuclear-related events, from the Friends Committee on National Legislation. Subscribe or view online.
- National Security Legislative Calendar
From the Council for a Livable World. (ref)
- NucNews
Very extensive daily dump of nuclear-related news items; unfortunately hard on the eyes and often redundant, but again, extensive.
---
---

Alliance For Nuclear Accountability Report
Out-of-control U.S. nuclear weapons programs accelerate spending, proliferation, health and safety risks: The Trillion Dollar Trainwreck (PDF)

---
Twitter Feeds
---
---
---
---
What Putin Wants
Alexei Arbatov details the basis for an understanding between the US and Russia from Putin's perspective; this event organized and hosted by the Graduate Initiative in Russian Studies at the Middlebury Institute of International Studies on May 13, 2016.
---
In Europe and Russia, There's Talk of War
-Jill Dogherty, Wilson Center (ref)
See our report: Nuclear Flashpoints: NATO-Russia
---
Nuclear News
---
---
Why You Should Care About Nukes
"Thanks to the Future of Life Institute for helping support this video and to Max Tegmark for guest narrating. For info about divesting from nuclear weapons companies, go to FLI Responsible Investing."
---
Dr. James Doyle
---
OPLAN 2045: A Road-Map To the Complete Elimination of Nuclear Weapons by 2045
- (Bulletin of the Atomic Scientists PDF)

Nuclear Weapons: A Record That Falls Short of Lofty Ambitions
- Arms Control Assoc. 12/2016

Fingers Off the Red Button
There's no reason one leader should be in control of a nation's nuclear arsenal.
- US News and World Report, Nov. 8, 2016

Careful, we might nuke you: The consequences of rejecting a nuclear no-first-use pledge
- Bulletin of the Atomic Scientists, September 2016

Why More Warheads Bring Less Security
- Arms Control Today, September 2016

The Full Price of Nuclear Deterrence
- The Bulletin, Feb. 29, 2016


---
LANL's Central Mission
Los Alamos Lab officials have recently claimed that LANL has moved away from primarily nuclear weapons to "national security", but what truly remains as the Labs central mission? Here's the answer from one of its own documents:
LANL's "Central Mission"- Presented at: RPI Nuclear Data 2011 Symposium for Criticality Safety and Reactor Applications
(PDF) 4/27/11
---
Current nuclear stockpiles- for country reports and other details see original annotated infographic at Ploughshares.org.
---
Accidental nuclear war- think it can't happen?
It almost did, quite a few times. See this timeline of nuclear close calls, presented by The Future of Life Institute.
---
---
Radioactive Quotes

---
"The pursuit of new types of nuclear warheads for limited-use scenarios is strategically and technically unwise. We should be looking to strengthen the dividing line between nuclear and conventional, not blurring that line."

Kingston Reif (FAS) regarding Defense Science Board report advocating more tactical nuclear weapons.

[link]
"Nuclear weapons, the Sword of Damocles that hangs over mankind, should be completely prohibited and thoroughly destroyed over time- to make the world free of nuclear weapons."

Chinese President Xi Jinping at the United Nations Office at Geneva, January 18, 2017

[link]
---

Every little bit helps!
Remember: contributions are tax-deductible.
*Go to donations page* Thanks for your support!
---