Arsenal of Information
---
---
---
Dossiers:
Trump's Nuclear Posture Review
Flashpoint: North Korea
Flashpoint: NATO-Russia
UN Treaty to Prohibit Nuclear Weapons
Plutonium Pit Production at LANL
B61-12 Enhanced Nuclear Bomb
LRSO: New Nuclear Cruise Missile
Kirtland AFB Nuclear Weapons Complex
MOX / Plutonium Disposition
Fukushima Disaster and Updates
Nuke Lab Contractors Illegal Lobbying
Nuclear Testing Since 1945
Atomic Histories
---
Nuclear Watch Interactive Map of the
Nuclear Weapons Complex
View full size
Facilities:
Kansas City Plant
Lawrence Livermore National Labs
Los Alamos National Laboratory
Nevada National Security Site
Pantex Plant
Sandia National Laboratories
Savannah River Site
Washington DC
Waste Isolation Pilot Plant (WIPP)
Y-12 National Security Complex
---
Nuclear Weapons Enterprise Twitter Feeds:
---
Facility Spotlight, August, 2017:
"... And these safety challenges aren't confined to Los Alamos. The Center's probe revealed worker safety risks, previously unpublicized accidents, and dangerously lax management practices at other nuclear weapons-related facilities. The investigation further found that penalties for these practices were relatively light, and that many of the firms that run these facilities were awarded tens of millions of dollars in profits in the same years that major safety lapses occurred. Some were awarded new contracts despite repeated, avoidable accidents, including some that exposed workers to radiation."
- Patrick Malone and R. Jeffrey Smith in their series entitled "Nuclear Negligence" for the Center for Public Integrity.
---

Nuclear Weapons Complex Misconduct
Dec. 3, 2015. POGO: Updated Federal Contractor Misconduct Database, focussing on Nuclear Complex (see report at POGO)
---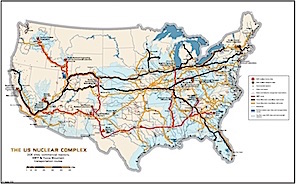 Click the image to view and download this large printable map of DOE sites, commercial reactors, nuclear waste dumps, nuclear transportation routes, surface waters near sites and transport routes, and underlying aquifers. This map was prepared by Deborah Reade for the Alliance for Nuclear Accountability.
Quote of the Week

---
"Is a nuclear holocaust inevitable if the arms race is not stopped? Frankly, the answer is almost certainly yes. Now I know that some people feel human beings are so terrified of a nuclear war that no one would dare start one. I wish I could accept that. But neither history nor the Bible gives much reason for optimism." - Billy Graham [d. 2/21/18], in a 1979 interview with Sojourners Magazine. (ref)
---
LANL's Central Mission
Los Alamos Lab officials have recently claimed that LANL has moved away from primarily nuclear weapons to "national security", but what truly remains as the Labs central mission? Here's the answer from one of its own documents:
LANL's "Central Mission"- Presented at: RPI Nuclear Data 2011 Symposium for Criticality Safety and Reactor Applications
(PDF) 4/27/11
---

Dossier:
The Kirtland AFB Nuclear Weapons Complex
Kirtland Air Force Base, which abuts and shares some runways with the Albuquerque airport, has become a major nuclear weapons complex of it's own. It hosts the Air Force's Nuclear Weapons Center, Sandia National Laboratories, and what is probably the nation's (and perhaps the world's) largest repository of nuclear weapons, estimated at up to 2,500 warheads... (read more)
---
Follow the Money!

---
LANL FY 2018 Budget Request
Click to view full PDF Lab Table data
Note that the percentage of the LANL budget request for core nuclear weapons activities has risen to 70%.

---
Sandia FY 2018
Click to view full PDF Lab Table data
Five years ago Sandia Labs was less than 50% nuclear weapons. That is no longer true because of "Life Extension Programs" that give existing nuclear weapons new military capabilities.

---
NNSA FY 2017 Budget Request
- Nuclear Watch Analysis/Compilation (PDF)
---
Congressional Budget Office report:
Projected Costs of Nuclear Forces 2014-2023

CBO presentation based on the report:


Click to view presentation
---
Stockpile Stewardship and Management Plan
- View/Download FY 2018 SSMP (PDF)
- View/Download FY 2017 SSMP (PDF)
- SSMP Analysis of Hans Kristensen, FAS: Nuclear Transparency and the Stockpile Stewardship and Management Plan (PDF)
- View/Download FY 2015 SSMP (PDF)
- NWNM Analysis (PDF) / Analysis Summary (PDF)
---
Nuclear Watch Media
---
Santa Fe, Feb. 9, 2018:
Jay Coghlan, Nukewatch Director Interview
'Living on the Edge', KSFR Radio. Jay speaks about the Doomsday Clock and the Trump Nuclear Posture Review. Archived podcast here.
---
Santa Fe, Sept 7, 2017:
Rep. Ted Lieu and Jay Coghlan on KSFR Radio
Congressman Lieu (D.CA) was given the Leadership Award by Alliance for Nuclear Accountability in May of this year for his sponsorship of HR 669, a bill to restrict the president's sole authority to launch nuclear war (mirrored in the Senate by S.200 introduced by Sen. Ed Markey D.MA).
(Nukewatch director Jay Coghlan is the current chairman of ANA.)
"Living on the Edge" with David Bacon, 101.1 FM
***Archived Podcast***
---
Jay Coghlan, Nukewatch Director Interview
With David Bacon on Living on the Edge, KSFR, Aug 3, 2017. Archived podcast here
---
KUNM FM: LANL's Long Environmental Cleanup
KUNM public radio discussion of Los Alamos cleanup, and Nukewatch lawsuit Archived podcast here
---
NukeWatch YouTube Channel
See our playlists of key video clips.
---
Successful Citizen Activism Against
Expanded U.S. Plutonium Pit Production
This is the unsung story of successful citizen activism against repeated government attempts to expand the production of plutonium pit cores, which has always been the choke point of resumed U.S. nuclear weapons production. This history is a critical part of the march toward a future world free of nuclear weapons. (View/download full report- PDF)
Updated March 2017: NukeWatch Fact Sheet:
"Plutonium Pit Production at LANL"
(View/download PDF)
NukeWatch fact sheet, September 26, 2017:
Expanded Plutonium Pit Production at LANL Will Not Result in Significant Positive Effect On Job Creation and the Regional Economy
(View/download PDF)
---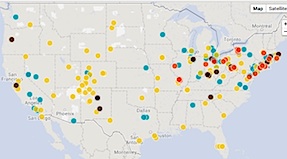 Waste Lands: America's Forgotten Nuclear Legacy
The Wall St. Journal has compiled a searchable database of contaminated sites across the US. (view)
Related WSJ report:
A Nuclear Cleanup Effort Leaves Questions Lingering at Scores of Old Sites, Legacy of US Arms Buildup...
---
What is both sobering and addictive?
This "Wheel of Near Misfortune" created by Union of Concerned Scientists- don't miss it!
Dr. Perry's South Asian Nuclear Nightmare
Dr. William J. Perry, the 19th Secretary of Defense, shares his South Asian nuclear nightmare in this video produced by the William J. Perry Project.
Dr. Perry's Nuclear Nightmare
Dr. William J. Perry, the 19th Secretary of Defense, shares his nuclear nightmare in this video produced by the William J. Perry Project.
---
Beyond the Summit:
New Approaches to Nuclear Security
William Perry: "Danger of a nuclear catastrophe is greater than during the Cold War. Our public is blissfully unaware. Consequently, the policies that this country follows are in no way commensurate to the danger."
---

What would happen if an 800-kiloton nuclear warhead detonated above midtown Manhattan?
You should read this.
---
---
Recent visitors - click to enlarge
---
Help us boost public awareness of the reality and risks of nuclear weapons today. Please share Nukewatch.org with your friends using the buttons below:
---
"If you really want a future world free of nuclear weapons, you can hardly make a better investment than to give to Nuclear Watch New Mexico. They need and deserve your support so that they can carry on their groundbreaking work. I urge you to be generous with them!" - Danielle Brian, Executive Director, Project on Government Oversight.
Please support our work!
Remember, donations are tax-deductible.
New & Updated

---
For Immediate Release, February 22, 2018:
NNSA Releases Draft Environmental Assessment for LANL Rad Lab;
Raises Plutonium Limit 10 Times for Expanded Pit Production
Santa Fe, NM. Today the National Nuclear Security Administration announced an Environmental Assessment to increase the amount of plutonium used in the Radiological Laboratory Utility and Office Building (aka the "Rad Lab") at the Los Alamos National Laboratory from 38.6 grams of plutonium-239 equivalent to 400 grams. This 10-fold increase is significant because it will dramatically expand materials characterization and analytical chemistry capabilities in the Rad Lab in support of expanded plutonium pit production for future nuclear weapons designs. It also re-categorizes the Rad Lab from a "radiological facility" to a "Hazard Category-3" nuclear facility. (See all the details in the full press release)
- Albuquerque Journal, February 22: NNSA wants more plutonium in Los Alamos facility
- Al Jazeera, February 23: US takes steps to resume plutonium pit production for nukes
---
February 18, 2018:
NTI Report Presented at Munich Security Conference Calls for "Re-evaluation" of Forward Basing of Nuclear Weapons Across Europe.


The report underscores the strong arguments for NATO to move to a safer, more secure, and more credible nuclear posture without forward-deployed U.S. nuclear weapons in Europe.
"Now is the time and the opportunity to ask whether those weapons are more of a security risk than an asset to NATO and whether they increase or reduce the risk of nuclear use." Authors: Steve Andreasen, Isabelle Williams, Brian Rose, Hans M. Kristensen, and Simon Lunn; Foreword by Ernest J. Moniz and Sam Nunn. (source: NTI)
View/download NTI report (PDF)

Op Ed published at the outset of the conference:
Preventing Nuclear Conflict in Europe
"Reducing and eliminating nuclear risks is an existential interest that all countries share. We have entered a new era, in which a fateful error- triggered by an accident, miscalculation, or blunder - could trigger a nuclear catastrophe.
"In the Euro-Atlantic region today, the risks of such an error are compounded by heightened tensions between NATO and Russia- and little communication between military and political leaders. In the absence of some positive initiative, we will continue to drift toward danger. In Munich, the EASLG will call on governments to work together to mitigate the risks of nuclear conflict."
Authors: Des Browne, a former British defense secretary, Vice Chairman of the Nuclear Threat Initiative and Chair of the European Leadership Network; Wolfgang Ischinger, former German Ambassador to the United States, Chairman of the Munich Security Conference; Igor S. Ivanov, former Russian Foreign Minister and Secretary of the Security Council of the Russian Federation from 2004 to 2007, President of the Russian International Affairs Council; Sam Nunn, a former leading US senator, Co-Chairman of the Nuclear Threat Initiative.
- The Euro-Atlantic Security Leadership Group (EASLG)
- Preventing Nuclear Conflict in Europe
- Recommendations to Improve Security and Reduce Nuclear Risks
17 Feb, 2018:
Former Secretary of Defense William Perry interview with Sophie Shevardnadze

Meanwhile, William Perry, who is on an outreach trip to Russia, appeared on the "SophieCo" show for RT.
"Perry, who previously had stated that NATO's eastward expansion during his tenure as defense secretary was a mistake and largely responsible for the current confrontation between Moscow and Washington, said that NATO's rapid expansion has not necessarily strengthened the alliance, and the US should rethink its hostility towards Russia.
"Although Russia and China were recently singled out by the US government as the greatest challenge to US national interests, Perry said that he did not agree with the Pentagon's "judgment" and thought Washington should focus instead on strengthening its relationship with Russia.
"Neither the US nor Russia want a nuclear war. Neither the US nor Russia want nuclear terrorism. Neither the US nor Russia want nuclear proliferation. So we have areas where we have strong and important agreements. We ought to be working together in those areas to solidify points on which we agree. So that's a potential that we're not exploiting." (watch interview)
- William J. Perry Project "works to ensure that nuclear weapons are never used again"
---
For Immediate Release, February 12, 2018:
Trump's Budget Dramatically Increases Nuclear Weapons Work
Santa Fe, NM. In keeping with the Trump Administration's recent controversial Nuclear Posture Review, today's just released FY 2019 federal budget dramatically ramps up nuclear weapons research and production.
The National Nuclear Security Administration (NNSA), the Department of Energy's semi-autonomous nuclear weapons agency, is receiving a $2.2 billion overall boost to $15.1 billion, a 17% increase above the FY 2018 enacted level. Of that, a full $11 billion is for the budget category (Nuclear) "Weapons Activities", 18% above the FY 2018 level.
Digging deeper under Weapons Activities, "Directed Stockpile Work" is increased from $3.3 billion to $4.7 billion, or 41%... (read the full press release)
Feb. 8: NukeWatch Director Jay Coghlan was interviewed on KSFR's "Living On The Edge" regarding the Nuclear Posture Review- Listen to the archived podcast here.
---
Behind VP Pence: Kim Yong Nam, President of the Presidium of North Korean Parliament, and Kim Yo Jong, sister of leader Kim Jong Un (photo: Washington Post)
February 11, 2018:
Pence Snubs Peace Initiative at Winter Olympics
Experts have been saying for some time that there is no good military solution to the Korea crisis. The best way to see the crisis defused would of course start with a rapprochement of the two Koreas. In fact the State Dept. recently said that the US would have no objection to a unified Korea as long as it was de-nuclearized. So that path was in the wind, but when the two Koreas initiated a peace and reconciliation effort at the Olympics, US Vice President Pence refused to go along.
"Pence spent the days leading up to Friday's opening ceremonies warning that the North was trying to 'hijack the message and imagery of the Olympic Games' with its 'propaganda.'
"But the North was still welcomed with open arms to what South Korean President Moon Jae-in called 'Olympic games of peace' and the U.S. appeared to be the one left out in the cold.
"Pence sat stone-faced in his seat as Moon and North Koreans officials stood together with much of the stadium to applaud their joint team of athletes. White House officials stressed that Pence had applauded only for the American team, but Asia experts said the vice president's refusal to stand could be seen as disrespectful to the hosts.
"While South Korean President Moon did not hesitate to shake hands and smile with his North Korean visitors, Pence didn't appear to even look in the direction of the North Korean delegation during the Friday event." (source: WaPo)
Seems the Trump administration would rather make threats than talk.
- Pence's Anti-North Korea PR Campaign Bombs
- US Vice-President Mike Pence rains on Olympic parade with Korea team snub
---
Goat Rodeo in the Pentagon Map Room
Why Was the NPR Pulled and Re-issued Several Times?
The initial draft leaked online showed the entire Korean peninsula- North and South- as part of North Korea. Whoops. Then the official version was released fixing that problem, but showing Taiwan as part of the People's Republic of China. Double whoops! Then that was taken down for several hours, and a third version released, which restored Taiwan as a separate entity. But in that last version the entire Kuril island archipelago, administered by Russia, but partly claimed by Japan, was disappeared. So, how's that "pivot to Asia" going, guys? (ref)
---
Nuclear Posture Review, International Reaction:
Feb. 8, British American Security Information Council:
Trump's Nuclear Posture Review endangers Europe
"The US' pursuit of new nuclear weapons is likely to worsen tensions with Russia. As a strategy, it does little to deal with Russia's underlying security concerns, could entrench Russian protestations over US military deployments in Europe, and could further divide European allies.
"If President Trump delivers on the NPR... Europe could be caught between a new nuclear arms race. Since the end of the Cold War, Europe has worked productively alongside the United States and Russia to decrease the saliency of nuclear weapons on the continent, through arms control, dialogue and confidence-building measures. It is incumbent on Europeans to defend this vision and assert that with new nuclear weapons come new insecurities." (ref)
---
Germany's Foreign Minister Calls On Europe to Lead Disarmament Push
Sigmar Gabriel, German Foreign Minister: "The US Administration's decision to develop new tactical nuclear weapons shows that the spiral of a new nuclear arms race has already been set in motion. As at the time of the Cold War, we in Europe are particularly at risk. For this reason, we in Europe in particular must launch new arms control and disarmament initiatives. (ref)

---
Mixed reactions in Japan
While the Abe government welcomed the Trump NPR, with its emphasis
on 'extended deterrence', Japanese press was more critical. An editorial in the Asahi Shimbun was titled "By backing Trump nuclear policy, Japan has sold its soul". Featured in Japan Times was an opinion piece by Gwynn Dyer, "The Pentagon's alarming nuclear posture review" saying "The U.S. is once again playing with the notion of a "limited" nuclear war- and everybody else is very unhappy about it."

---
China: Washington's Reverse On Nuclear Strategy Harms Security Interests Of All
Ren Guoqiang, National Defense Ministry spokesman reaffirmed China's policy of "no first use of nuclear weapons at any time under any circumstances".

Ren said that China has always exercised the utmost restraint in the development of nuclear weapons and limited its nuclear capabilities to the minimum required for national security. As the country that possesses the world's largest nuclear weapons arsenal, the US should conform to the irreversible world trend of peace and development rather than run in the opposite direction.
"We hope the US will discard its Cold War mentality, shoulder its own special and primary responsibility in nuclear disarmament, correctly understand China's strategic intention and take a fair view on China's national defense and military development." (ref)
- China Commentary:
"By ringing a false nuclear alarm in the review, Washington is merely trying to find excuses to seek absolute nuclear supremacy. Yet the Trump administration needs to understand that, instead of making itself safer, more nuclear weapons would only bring to it more security risks.
"For decades, major countries have endeavored to reduce global nuclear stockpiles in hopes of forestalling a human catastrophe.
"It is vital that, rather than undercut the efforts, Washington should stop backtracking on its nuclear policy, follow the trend of the times, and work with the rest of the international community to truly reduce the nuclear threat facing humankind." (ref)
- Note UCS China Report:
Nuclear Posture Review Overstates China's Nuclear Arsenal Modernization Plans
Report author Gregory Kulacki, China Project manager at the UCS Global Security Program: "After a half-century of continuous incremental 'modernization', China's nuclear arsenal is smaller than the US nuclear arsenal was in 1950.
"There is no evidence that nuclear weapons are becoming more prominent in China's military strategy or that China has changed its longstanding no-first-use policy. Chinese military sources emphatically state that China's only security objective with its relatively small nuclear force is to retain the ability to retaliate in the event of a nuclear attack.
"If the Trump administration were truly concerned about limiting the size and capability of China's nuclear forces," he added, "it would ratify the Comprehensive Test Ban Treaty, which China signed in 1996, and negotiate a fissile material control treaty, which China supports. Doing so would cap the size of China's nuclear arsenal." (ref)
---
Russian Ministry of Foreign Affairs Comment on the new US Nuclear Posture Review

"We are deeply disappointed with the new US Nuclear Posture Review, which was made public on February 2. The first impression is: the document is focused on confrontation and is anti-Russian. It is regrettable that the United States justifies its policy of massive nuclear build-up with references to Russia's policy of nuclear modernization and the allegedly increased reliance on nuclear weapons in Russia's doctrines. We have been accused of lowering the threshold for the first use of nuclear weapons and aggressive strategies... None of this has any connection with reality.
"In addition to this, the new Nuclear Posture Review sets out sweeping nuclear modernization plans. Of special concern are the US plans to modify existing SLCMs to 'provide a low-yield option' and also to create a low-yield warhead for the Trident II SLBMs. Nuclear weapons with such options are clearly designed as battlefield weapons. This will greatly increase the temptation of using them, especially considering the right to a disarming first strike as set out in the new US doctrine. Assurances that the implementation of these plans will not lower the nuclear threshold can at least be interpreted as a desire to delude the international community."
"Of course, we will have to take into account the new US plans and to take measures to enhance our security. (ref)
---
On the Home Front
Secretary of Defense Mattis went to the House Armed Services Committee on February 6 to clarify and qualify the NPR. Defending the building and deployment of low-yield nuclear weapons, he explained that "We don't want someone else to miscalculate and think that because they are going to use a low-yield weapon, somehow we would confront what [former Secretary of State Henry Kissinger] calls 'surrender or suicide'. We do not want even an inch of daylight to appear in how we look at the nuclear deterrent. It is a nuclear deterrent, and must be considered credible." (ref)
Mattis basically said the proposed nuclear cruise missile is a bargaining chip, meant to provide new negotiating leverage to U.S. diplomats trying to persuade Russia to end [alleged] violations of the INF treaty.(ref)
Mattis noted that he recently received a letter from senators [see below] expressing concern that the new nuclear strategy would undermine traditional US leadership on reducing and eventually eliminating nuclear weapons. He said the strategy does just the opposite: it will strengthen deterrence of a nuclear attack, and thereby provide the security that would enable further progress on arms control. (ref)
Further coverage:
- To Counter Russia, U.S. Signals Nuclear Arms Are Back in a Big Way
- Trump's request for even more nuclear weapons is flawed overkill
- We're Sliding Towards a Nuclear 1914 - Can We Save Ourselves?
- Beatrice Fihn on Democracy Now: Trump's Nuclear Policy "Puts Us on Path To Nuclear War"
- Why Congress should refuse to fund the NPR's new nuclear weapons
- The Rising Risk of Nuclear War Under Trump
- Walter Pincus: Trump's Nuclear Posture Review: Cold War Redux?
- How America Could Accidentally Push Russia into a Nuclear War - Jeffrey Edmunds
&nbsp (Former National Security Council Director for Russia)
---
February 2, 2018:
Nuclear Posture Review, Released Today, Met with Criticism and Alarm
View/download NPR PDF- Note this is the updated full document which replaces the original which was pulled from the DoD website Feb. 3. DoD is also offering an executive summary, translated into Russian, Chinese, Korean, Japanese, and French. (View/download PDF)
DoD Press Briefing at the Pentagon: (Youtube)
Arms Control Association Press Briefing: (transcript and audio)
Trump's Nuclear Posture Review: Top Take-Aways
-Lisbeth Gronlund, co-director and senior scientist at Union of Concerned Scientists (source)

Notably: the NPR calls for the U.S. to deploy two new types of lower yield nuclear warheads, generally defined as nuclear bombs below a five kiloton range (the one dropped on Hiroshima was 20 kilotons), that could be fitted onto a submarine-launched ballistic missile, and one, yet to be developed, that would be fitted onto a submarine-launched cruise missile.
And while the report specifically denies it is a nuclear war-fighting prescription, it states: "The United States will...strengthen the integration of nuclear and non-nuclear military planning. Combatant Commands and Service components will be organized and resourced for this mission, and will plan, train, and exercise to integrate U.S. nuclear and non-nuclear forces and operate in the face of adversary nuclear threats and employment." (All the details at UCS)
A most interesting story of the background to the new NPR appears in the American Conservative, by Mark Perry:
Trump's Nuke Plan Raising Alarms Among Military Brass
They say strategy led by DoD policy wonks could lead to dangerous nuclear escalation.
Perry describes a "bitter battle during its drafting [which] pitted senior Army and Navy warriors against nuclear wonks inside the Defense Department. That fight- over the exorbitant costs associated with the NPR, and charges that it could make nuclear war more likely- are bound to continue through implementation."
"'It's one thing to write a policy,' a senior Pentagon civilian privy to the NPR fight told The American Conservative, 'and it's another thing to have it implemented. What the NPR is recommending will break the bank, and a lot of people around here are worried that making nuclear weapons more usable isn't what we should be doing. The conventional military guys have dug in their heels, they're dead-set against it. This battle isn't over.'"
Regarding the principal architects of the new NPR: "The prominence of [Keith] Payne and [Franklin] Miller set off alarm bells among senior Army and Navy officers, who viewed the two as nuclear hawks. Indeed, Payne and Miller had often teamed up in a kind of traveling road show to present their pro-nuclear views... The combination of Payne, Miller, Mies, Joseph, and Huessy, many senior military officers believed, meant that the NPR's conclusions had been 'pre-cooked.'" (When Payne was named by George W. Bush the Pentagon's deputy assistant secretary for forces policy, reporter Fred Kaplan dubbed him 'Rumsfeld's Dr. Strangelove.')
"'Listen,' a senior nuclear thinker and NPR critic told The American Conservative, 'the story you won't hear is how this really came about. And here's how it happened. One day, Sean Hannity got on television and talked about how we need more nuclear weapons and Donald Trump heard this and went over to the Pentagon and presto, we got Keith Payne and his crew. That's the truth, and that's what got us to where we are.'"
Perry concludes saying, "The battle over the Nuclear Posture Review and what it recommends isn't over. It's only beginning." (source AmCon)
*The final NPR states "The United States will not use or threaten to use nuclear weapons against non-nuclear states that are party to the NPT and in compliance with their nuclear non-proliferation obligations." However in a further paragraph it states: "Given the potential of significant non-nuclear strategic attacks the United States reserves the right to make any adjustment in the assurance that may be warranted by the evolution and proliferation of non-nuclear strategic attack technologies and US capabilities to counter that threat." (pg 21)
More coverage:
Washington Post: Pentagon unveils new nuclear weapons strategy, ending Obama-era push to reduce U.S. arsenal
Bloomberg News: Pentagon Sees Broader Role for Nuclear Weapons

Time Magazine: Donald Trump Is Playing a Dangerous Game of Nuclear Poker
Statement from NTI CEO and Co-Chair Ernest J. Moniz and Co-Chair Sam Nunn on U.S. Nuclear Policy and Posture: "The world has crossed over to a new nuclear era, where a fateful error- rather than intentional aggression- is the most likely catalyst to nuclear catastrophe." (NTI)
NTI published six related policy papers together providing an alternative vision and roadmap for America's nuclear policy and posture and a template for Congress and the American people to evaluate the Trump Administration's Nuclear Posture Review. (NTI-resources)

---
January 29, 2018:
Senators: Trump Nuclear Posture Review Raises Real Possibility of Nuclear War
In a new letter, 16 Senators urged President Trump to reconsider efforts that would undermine decades of U.S. nonproliferation leadership by building new nuclear weapons, and lowering threshold for use.
The senators write that the new NPR:
- Would undermine decades of US leadership in efforts to reduce and eventually eliminate the existential threat posed by nuclear weapons.
- Calls for "more usable" low-yield nuclear weapons and Cold War era weapons systems that are unnecessary to maintain deterrence and are destabilizing.
- Expands conditions under which the US might use nuclear weapons, including to respond to a broadened range of non-nuclear attacks.
- In creating new nuclear capabilities and widening their possible use, constitutes an increase in America's nuclear war-fighting capacity that will pressure other nuclear weapons states to follow suit.
- Does not address how the US will afford these additional expenditures on top of the already unsustainable costs of modernizing our existing nuclear forces (est. $1.7 trillion over 30 yrs).
- Ignores our commitments under 1968 NPT to "pursue negotiations in good faith on effective measures relating to the cessation of the nuclear arms race at an early date and to nuclear disarmament."
- Pays only superficial attention to the substantial threat posed by nuclear terrorism and nuclear proliferation. "These efforts are just as important as deterring existing nuclear weapons states."
"The sole purpose of our nuclear arsenal should be to deter nuclear attack against the United States, our allies and partners... However, the reported policies outlined in your forthcoming Nuclear Posture Review increase the risk of a nuclear arms race and raise the real possibility of nuclear conflict. As the world's greatest nuclear power and the only nation that has ever used nuclear weapons in combat, we have a unique responsibility to continue to lead the international community towards eventual nuclear disarmament."
Signed,
Senators Edward J. Markey (D-Mass.), Dianne Feinstein (D-Calif.), Jeff Merkley (D-Ore.), Elizabeth Warren (D-Mass.), Bernie Sanders (I-Vt.), Tina Smith (D-Minn.), Tammy Baldwin (D-Wis.), Sheldon Whitehouse (D-R.I.), Patty Murray (D-Wash.), Ron Wyden (D-Ore.), Dick Durbin (D-Ill.), Kamala Harris (D-Calif.),Brian Schatz (D-Hawaii), Kristen Gillibrand (D-N.Y.), Cory Booker (D-N.J.), Maria Cantwell (D-Wash.) (story) View/download the letter (PDF)
---
January 25, 2018:
The Doomsday Clock Advances; It's Two Minutes to Midnight
Read the Bulletin's full Doomsday Clock statement (PDF)
"To call the world nuclear situation dire is to understate the danger-
and its immediacy." - Rachel Bronson, Pres. Bulletin of Atomic Scientists
Lawrence Krauss and Robert Rosner, writing in The Washington Post:
"We hope this resetting of the clock will be interpreted exactly as it is meant: an urgent warning of global danger. The time for world leaders to address looming nuclear danger and the continuing march of climate change is long past. The time for the citizens of the world to demand such action is now. It is time to rewind the Doomsday Clock." (ref)
---
January 24, 2018:
Adam Smith: Trump's Nuclear Posture Review is "short-sighted and ill-advised"
House Armed Services Comm. Ranking Member Adam Smith on the Nuclear Posture Review:

"A nuclear posture that implements the President's view that his nuclear button is 'bigger and more powerful' is short-sighted and ill-advised. This review is a missed opportunity to introduce realism into our nuclear weapons planning, enhance our security, and reassure our allies.
"The United States has an extremely robust, highly credible nuclear deterrent that is capable of responding to any attack and defending our allies with decisive force. We are currently in the process of upgrading that deterrent in an effort that will cost some $40 billion per year. That is far more than Russia's and China's nuclear weapons spending, and it would be irresponsible and misleading for the administration to act as if those countries are upgrading their nuclear arsenals while the United States is doing nothing. The administration's recommendations will not increase our security- they will instead feed a nuclear arms race, undermine strategic stability by lowering the threshold for nuclear use, and increase the risk of miscalculation that could precipitate a nuclear war." (full statement)
---
January 21, 2018:
Below are some excerpts from an essay by Cassandra Williams, a ninth-grader in Dubuque, Iowa, which appeared earlier in January at the Bulletin of Atomic Scientists
Millennials Need New Movies About Nuclear War
By Cassandra Williams
"Movies hold the power to teach and to persuade. Today, there is one subject that appears to be largely absent from popular movies: nuclear war. Nuclear war movies were huge in Hollywood from the 1960s to the 1980s. Today, however, they are rare.
"Nuclear war is, and will be, a threat for as long as nuclear weapons exist. Everyone needs to understand this threat, especially millennials. They are the future, after all. But many millennials are too young to have seen the eye-opening movies of an earlier era, which revealed what would happen in the event of a nuclear war.
"Because nuclear war movies are outdated, they don't hold the attention of millennials today; we need new movies to warn of the nuclear war threat... Movies are a large part of our current culture. If you want to get a millennial's attention, make a movie about it. Nuclear war scared people then, and it will again, especially with the incredible update in movie technology since the 1980s.
"The Day After (1983) left me completely stunned. I had learned about the power of nuclear weapons, but never had I seen just how devastating nuclear war could be. You can read about it, and you can hear about it, but actually seeing it is a different story..." (The Bulletin)


"The Day After" was shown on ABC in the fall of 1983, at the peak of Cold War nuclear war fears. 100 million people watched the film, a record. President Reagan watched an advance viewing at the White House, and later wrote in his diary "the movie was very effective and left me greatly depressed", and that it had changed his mind about prevailing policy and nuclear war. The film was also screened for the Joint Chiefs of Staff. A government advisor who attended the screening, a friend of director Nicholas Meyer's, told him "If you wanted to draw blood, you did it. Those guys sat there like they were turned to stone." Watch "The Day After" from our Books and Films page.
---
December 10. 2017:
ICAN Honored: 2017 Nobel Peace Prize Ceremony
6.36 - Address of Nobel Committee leader Berit Reiss-Andersen on the choice of ICAN
for the 2017 Peace Prize (view transcript)
35.12 - Presentation of the award to ICAN's Beatrice Fihn and Setsuko Thurlow
44.22 - ICAN Director Beatrice Fihn address (view transcript)
1.03.55 - Setsuko Thurlow address (view transcript)
Nobel Prize Award Ceremonies
The International Campaign to Abolish Nuclear Weapons (ICAN) received the Nobel Peace Prize Sunday, Dec 10 in Oslo, Norway. ICAN has been the driving force behind the Treaty to Prohibit Nuclear Weapons voted this summer at the UN and now open for signatures. Nuclear Watch NM is proud to be one of ICAN's 400 affiliated organizations worldwide.
Please support our work!
Remember, donations are tax-deductible.
---
Best Nuclear Books and Films
There's lots to see in our Books and Films section!
---
Critical Events
Feb. 12- early March, HBO:
"Atomic Homefront" free online at HBO
HBO is showing the acclaimed documentary
Free online. Watch here
Heads up: DC Days 2018
Alliance for Nuclear Accountability's DC Days 2018 will take place May 21-23, with a training day on May 20. Learn how to work with Washington DC and lobby our representatives and staff effectively. Note that a limited number of youth scholarships are available for interested participants under 30 yrs.
- Contact Nukewatch re scholarships
- Read about last year's DC Days events here.
- Online registration opens February 1. (go here)
New Mexico action alert:
Stop plans for a high-level radioactive waste dump!
Please call the New Mexico congressional delegation and ask them to oppose the Nuclear Waste Policy Amendments Act of 2017 (H.R. 3053) This dangerous bill could come up on the US House floor soon. If passed into law, H.R.3053 would eliminate a major hurdle for companies proposing to store deadly, cancer-causing high-level nuclear reactor waste at 'interim' storage sites planned for Texas and New Mexico. (read more)
---
Nuclear New Mexico
Click to see NukeWatch's annotated map of nuclear sites, including those on the way, in The Land of Enchantment
---
Nuclear Watch Legal Actions Ongoing


- Cleanup Lawsuit
See all related docs: NukeWatch lawsuit against DOE & LANS (LANL's corporate manager), re failure to execute cleanup of radioactive wastes.
- UPF Lawsuit
OREPA, NukeWatch, and NRDC lawsuit against the Uranium Processing Facility (UPF) -the 'tip of the spear' for the $trillion dollar nuclear modernization project.
---

ANA Report 2017: Accountability Audit
This year's report examines the extraordinary spending at Department of Energy nuclear facilities and examines ways to reduce risks and save billions of dollars across the U.S. nuclear weapons complex. (View/download PDF)
---
Alliance For Nuclear Accountability 2016 Report
Out-of-control U.S. nuclear weapons programs accelerate spending, proliferation, health and safety risks: The Trillion Dollar Trainwreck (PDF)
---
Newsletters and Calendars
---
- The Bulletin's Nuclear Roundup
Daily nuclear news; subscribe or view online. Very good selection.
- Ploughshares' Early Warning
"Daily news on the issues we're following from the desk of Joe Cirincione." Subscribe or view online.
- AM Nukes Roundup
A good one from Rethink Media. Compiles all of the day's top news and opinion pieces on nuclear issues- subscribe or view online.
- Proliferation News
From the Carnegie Nuclear Policy Program- subscribe or view online.
- Nuclear Policy News (CSIS)
Subscribe or view online. Very good selection. Note that CSIS's top ten corporate donors include Lockheed Martin, Northrup-Grumman, Boeing, General Dynamics and Leonardo-Finmeccanica.
- Nuclear Calendar FCNL
Extensive email listing of all nuclear-related events, from the Friends Committee on National Legislation. Subscribe or view online.
- National Security Legislative Calendar
From the Council for a Livable World. (ref)
- NucNews
Very extensive daily dump of nuclear-related news.
---
FAS Nuclear Notebooks
---
- US nuclear forces 2017
- Russian nuclear forces 2017
- Indian nuclear forces 2017
- Chinese nuclear forces 2016
- Pakistan Nuclear forces 2016
- more
---
---
Twitter Feeds
---
---
---
Trump, Feb. 12: on the US nuclear arsenal

"We're modernizing and creating a brand new nuclear force. And frankly, we have to do it because others are doing it. If they stop, we'll stop. But they're not stopping. So, if they're not gonna stop, we're gonna be so far ahead of everybody else in nuclear like you've never seen before. And I hope they stop. And if they do, we'll stop in two minutes. And frankly, I'd like to get rid of a lot of 'em. And if they want to do that, we'll go along with them. We won't lead the way, we'll go along with them... But we will always be number one in that category, certainly as long as I'm president. We're going to be far, far in excess of anybody else." (ref) (read on at our dossier on Trump's 2018 Nuclear Posture Review)
---
Annotated List of Nuclear Close Calls
An extensive and annotated list of dozens of "broken arrows"- incidents in which nuclear weapons were misplaced, stolen, damaged, or even detonated.
Compiled by Sarah Witmer at Wagingpeace.org, who notes: "These close calls emphasize the lack of proper security for nuclear weapons, and the lack of training and overall competence of militaries and leaders who possess nuclear weapons. There have been far more incidents than those listed here, and likely many that militaries and world leaders withhold as classified."(view list)
---
Nuclear News
---
US takes steps to resume plutonium pit production for nukes
NNSA wants more plutonium in Los Alamos facility
Why Russia is Emerging as the World's Indispensable Diplomatic Power
'Low-Yield' Nukes Are a Very High Threat
How post-ISIS scramble for advantage in Syria raises risk of wider war
Nuclear weapons testing on U.S. soil is as pointless as it is dangerous
China reiterates non-first-use principle of nuclear weapons at Munich conference
In Munich, Warnings Of Nuclear Confrontation, 'Major Interstate Conflict'
Preventing Nuclear Conflict in Europe
New NTI Report Questions Need for Forward-Deployed U.S. Nuclear Weapons in Europe
Kissinger, Shultz Warn Senate Armed Services Committee of Rising Nuclear Perils
Ending the Reign of the Nuclear Monarchs
Trump's Massive Giveaway to the Pentagon
NTI Report: US wasting billions on B61 nuclear bombs that serve no purpose and are security liability in Europe, Turkey
Lawrence Wilkerson: I Helped Sell the False Choice of War Once. It's Happening Again.
US policy doc hints at 'limited' nuclear arms use, alarming Russians
Asahi Shimbun Editorial: By backing Trump nuclear policy, Japan has sold its soul
The Pentagon's alarming nuclear posture review
The Discrimination Problem: Why Putting Low-Yield Nuclear Weapons on Submarines Is So Dangerous
Daniel Ellsberg Thinks We're in Denial About Nuclear War
Court: Idaho nuclear waste documents won't be made public
Sean Sullivan, chairman, Defense Nuclear Facilities Safety Board Steps Down Amid Internal Turmoil
Trump's Nuclear Posture Review endangers Europe
EU, NATO Face Growing Threat of Inadvertent Military Clash- Munich Security Report
The People Who Made a Nuclear-Weapons-Prohibition Treaty Possible
Trump's request for even more nuclear weapons is flawed overkill
To Counter Russia, U.S. Signals Nuclear Arms Are Back in a Big Way
Resisting Nuclear Weapons Means Resisting Injustice and Oppression
EPA orders cleanup at St. Louis nuclear waste site. What does it mean for the nation's other toxic messes?
Is it time for a 21st-century version of "The Day After"?
Trump Seeks New, Smaller, Nukes To Make Enemies Think He'd Actually Use Them
Trump's Nuke Plan Raising Alarms Among Military Brass
S.C. governor's nuclear advisors support SRS pit production, German fuel repatriation
Donald Trump Is Playing a Dangerous Game of Nuclear Poker
Air Force Gen. Paul Selva, vice chairman, Joint Chiefs of Staff: Leaked NPR Draft Misinterpreted on Nuclear Response to Cyber
Moldova Pres: "Our people want their country to be neutral. They don't want NATO here- NATO means war. I don't want my people to be used as cannon fodder."
San Francisco wants to build 12,000 new homes on a former nuclear test site- but the project is in turmoil after the Navy found evidence of a botched and "falsified" cleanup
A microscopic fungus could mop up our "mind-boggling amount" of Cold War-era nuclear waste
Playing for pits: NM senators battle Sth Carolina officials for the job of making plutonium pits for nuclear bombs
Heinrich questions DOE nominee on WIPP, Los Alamos
Trump Nuclear Plan Requires Big Fixes In Decaying Warhead Industrial Complex
The Swedish Environmental Court's NO to the final repository for spent nuclear fuel - a triumph for the environmental movement and the science
Trump's Draft Nuclear Posture Review Degrades National Security
Nuclear Posturing: Trump's official nuclear policy isn't that different from his predecessors'. That's what makes it so scary.
"Charlottesville": A Story About Nuclear War commissioned by the Office of Technology Assessment in 1979
Rep. Adam Smith Statement on the Nuclear Posture Review
As Trump heads to Davos, survey points to rising risk of war
Dozens of US nuclear weapons in Turkey could be in question as the NATO allies fight a proxy war in Syria
Give Trump new nukes and we are that much closer to war
S. Korea, U.S. agree to work toward opening denuclearization talks with N. Korea
Could a false alarm like Hawaii trigger a war?
Japan public TV sends mistaken North Korean missile alert
Hawaii's Nuclear Wakeup Call (and Why We Should Take MLK's Advice)
What the Hell Happened in Hawaii?
Hawaii Panics After Alert About Incoming Missile Is Sent in Error
Bruce Blair OpEd: A new Trump administration plan makes nuclear war likelier
Cybersecurity of Nuclear Weapons Systems: Threats, Vulnerabilities and Consequences
---
Erdogan's Turkey- Our Nuclear Ally
Feb. 12. Erdogan calls Trump a double-faced liar and crook. And we store 50 nuclear weapons there... good idea?
See our Turkey/Incirlik file.
---
In Europe and Russia, There's Talk of War
-Jill Dogherty, Wilson Center (ref)
See our report: Nuclear Flashpoints: NATO-Russia
---
Current nuclear stockpiles
For country reports and other details see original annotated infographic at Ploughshares.org.
---
Accidental nuclear war- think it can't happen?
It almost did, quite a few times. See this timeline of nuclear close calls, presented by The Future of Life Institute.
---
Don't Bank on the Bomb 2015
View/download Report PDF
---
Radioactive Quotes

---
"Nuclear weapons are monarchic. Along with other weapons of mass destruction, they are what Scarry calls 'out-of-ratio' weapons: ones that give a very small number of people the power to annihilate very large numbers of people. 'An out-of-ratio weapon makes the presence of the population at the authorization end [of an attack] a structural impossibility,' she writes. 'New weapons inevitably change the nature of warfare,' she says, 'but out-of-ratio weapons have changed the nature of government.'"
"Nuclear weapons undo governments, and undo anything that could be meant by democracy. They put the population completely outside the realm of overseeing our entry into war- or having a say in their own survival or destruction. We have to choose between nuclear weapons and democracy."
-Thermonuclear Monarchy (2014), Elaine Scarry (ref)
---

Every little bit helps!
Remember: contributions are tax-deductible.
*Go to donations page* Thanks for your support!