Arsenal of Information
---
---
---
Dossiers:
Marshall Islands Lawsuit
Conference on the Humanitarian Impact
MOX / Plutonium Disposition
CMRR-Nuclear Facility
Nuclear Testing Since 1945
Atomic Histories
Fukushima Disaster and Updates
---
Nuclear Watch Interactive Map of the
Nuclear Weapons Complex
View full size
Facilities:
Kansas City Plant
Lawrence Livermore National Labs
Los Alamos National Laboratory
Nevada National Security Site
Pantex Plant
Sandia National Laboratories
Savannah River Site
Washington DC
Waste Isolation Pilot Plant (WIPP)
Y-12 National Security Complex
Facility Spotlight:
- NNSA Cuts Los Alamos Lab's Award Fees by 90%
- DOE IG Report: Sandia Labs Misused Federal Funds
- Y-12: Poster Child For A Dysfunctional Nuclear
Weapons Complex
---
Follow the Money!

---
NNSA FY 2015 Budget Request
- Nuclear Watch Analysis/Compilation (PDF)
- Nuclear Watch New Mexico's analysis (PDF)
- NNSA's FY 2015 budget
- Best press coverage
Recent posts, budget and economic issues:
Nukewatch Analysis: NNSA FY 2015 Budget Request
More analysis /critiques NNSA FY 2015 Budget
In Desperate Need of Spring Cleaning? The US Nuclear Complex.
---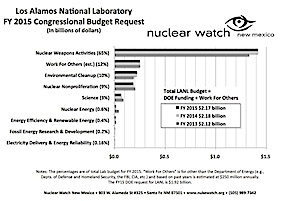 LANL FY 2015 Budget Request
Click to view full PDF incl. annotations
---
Lawrence Livermore FY 2016 Budget Request


View full PDF incl. annotations
Chart by Tri-Valley CARES
---
Congressional Budget Office report:
Projected Costs of Nuclear Forces 2014-2023

CBO presentation based on the report:


Click to view presentation
---
For Immediate Release, Dec. 21, 2013:
One Trillion Dollars Over Thirty Years:
Nuclear Weapons "Modernization"
Locally, Los Alamos Lab Cleanup and Job Creation Are Imperiled
(View/download NWNM Press Release PDF)
---
Stockpile Stewardship and Management Plan
View/Download FY 2015 SSMP (PDF)
NWNM Analysis (PDF) / Analysis Summary (PDF)
---
Nuclear Weapons Lobby Reportedly Spent $2.9 Million To Stave Off Military Cuts

"The nuclear weapons industry is erecting a missile shield of money to prevent federal government spending cuts worth billions of dollars. In the 2012 election cycle, nuclear weapons lobbies have given a total of $2.9 million to key members of Congress and deployed no fewer than 137 revolving-door lobbyists to Capitol Hill, according to a new report that details the lengths to which arms makers will go to protect their turf." (story)
"Bombs Versus Budgets: Inside the Nuclear Weapons Lobby", prepared by the Center for International Policy. (download PDF)
---

Credit: Chain Reaction/Livable World
---
Nuclear Watch Media
---
See the NukeWatch YouTube channel
for our collection of videos.
---
Jay Coghlan on the Nuclear Defense Industry
KSFR Santa Fe: Living on the Edge, October 17, 2013. David Bacon with Jay Coghlan, NukeWatch E.D. (online podcast)
---
Successful Citizen Activism Against
Expanded U.S. Plutonium Pit Production
This is the unsung story of successful citizen activism against repeated government attempts to expand the production of plutonium pit cores, which has always been the choke point of resumed U.S. nuclear weapons production. This history is a critical part of the march toward a future world free of nuclear weapons. We gratefully dedicate it to Leroy Moore, longtime activist with the Rocky Mountain Peace and Justice Center, and J. Carson Mark, retired director of the Los Alamos Lab's Theoretical Division and ardent arms control advocate.
(View/download full report- PDF)
Update, 2/27/15:
"[Sen.] Udall can't have it both ways, wishing for future limits on plutonium pit production while supporting the very programs and facilities that will expand production. He needs to stand up, pick one or the other, and make clear whether he is working for a world free of nuclear weapons or not."
-Jay Coghlan, executive director of Nuclear Watch New Mexico, in a published comment on a Feb 22 Santa Fe New Mexican article titled "Udall weighs in on LANL's next mission: Pits".

---

Recent visitors - click to enlarge
---
"If you really want a future world free of nuclear weapons, you can hardly make a better investment than to give to Nuclear Watch New Mexico. They need and deserve your support so that they can carry on their groundbreaking work. I urge you to be generous with them!" - Danielle Brian, Executive Director, Project on Government Oversight.
Please support our work! Donations are tax-deductible
New & Updated
---
FOIA Request Filed By Oak Ridge Env. Peace Alliance and Nuclear Watch NM
For immediate release: March 2, 2015:

Groups Join To Demand Answers About Bomb Plant Plans
Contacts: Ralph Hutchison, Coordinator, email
Jay Coghlan, Executive Director NWNM, email

"The Oak Ridge Environmental Peace Alliance (Oak Ridge, TN) and Nuclear Watch New Mexico (Santa Fe, NM) today filed a Freedom of Information Act request asking the Department of Energy (DOE) to come clean about its plans for a new, multi-billion dollar nuclear bomb plant proposed for the Y-12 Nuclear Weapons Complex in Oak Ridge, Tennessee.
"The Uranium Processing Facility (UPF) is a highly troubled project that has exploded in estimated costs from an original $600 million to as high as $19 billion. Since then, in order to attempt to cap project spending at $6.5 billion, DOE has reduced the scope of the UPF by eliminating dismantlement operations and assuming a mission of production-only for nuclear weapons. After a half-billion dollar design mistake for which no one has been held accountable, DOE has abandoned its previous "big box" concept for the UPF in favor of a modular approach that includes the continuing use of unsafe, aging facilities previously slated for demolition. Despite these major changes, DOE has indicated it does not plan to update the legally required environmental review process it completed in 2011..." View/download full press release
---
February 20, 2015:
Projected Costs of U.S. Nuclear Forces, 2015 to 2024
Michael Bennett, National Security Division, Congressional Budget Office
(View/download full size chart with keys and annotations)
---
February 20, 2015: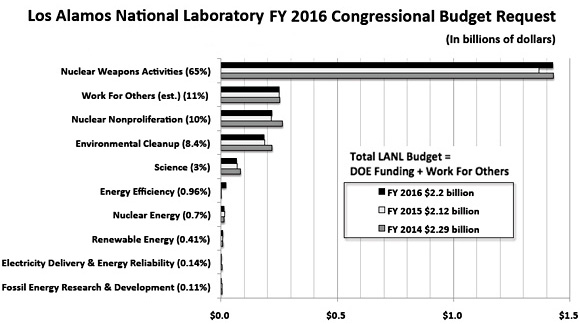 Los Alamos National Laboratory FY 2016 Congressional Budget Request
(View/download full size chart with keys and annotations)
---
February 11, 2015:
FY 2016 Budget: Nuclear Watch NM Compilation and Analysis
- DOE Nuclear Weapons Budget Up 10%, Equals Cold War Record
- Huge Startup for Nuclear Cruise Missile Warhead
- $4 Billion Slated for LANL Plutonium Pit Production Facilities
- Cleanup and Dismantlement Funding Flat
View/download the Nuclear Watch budget compilation and analysis (PDF)
---
January 22, 2015:

Doomsday Clock: Three Minutes to Midnight
"Today, more than 25 years after the end of the Cold War, the members of the Bulletin of the Atomic Scientists Science and Security Board have looked closely at the world situation and found it highly threatening to humanity- so threatening that the hands of the Doomsday Clock must once again be set at three minutes to midnight, two minutes closer to catastrophe than in 2014."
"In 2015, unchecked climate change, global nuclear weapons modernizations, and outsized nuclear weapons arsenals pose extraordinary and undeniable threats to the continued existence of humanity, and world leaders have failed to act with the speed or on the scale required to protect citizens from potential catastrophe. These failures of political leadership endanger every person on Earth."
- Read the full Bulletin statement here.
- See a chronology of the changes to the Doomsday Clock, and the reasons for the changes, included in this Washington Post article.
- See a chart of these changes since 1947

The risks are higher now...
Theodore Postol recalls the sequence of coincidences 20 years ago this week which nearly triggered a US-Russia nuclear war- during a less antagonistic climate than we have today:
"How the Nuclear Near-Miss in 1995 Would Be a Disaster Today"
- See also David Wright: "Nuclear War and the Science Experiment of January 25, 1995"
- Related UCS Fact Sheet:
"U.S. Military and Political Leaders Urge Taking Nuclear Weapons Off Hair-Trigger Alert" (PDF)
---
January 18, 2015:
Rebranding The Nuclear Weapons Complex Won't Reform It
Robert Alvarez takes a critical look at the latest Congressional review of the nuclear weapons complex...
"Given that the panel was dominated by members with ties to weapons contractors, it comes as no surprise that the panel's report advocates a reduction in federal oversight of contractors that run the complex, in effect doubling-down on the 'least-interference' policy that is at the heart of so many weapons complex problems.
"And by focusing on branding and protection of contractors, this latest panel to examine the US nuclear weapons complex diverts attention from the thorny problem repeatedly raised by other expert panels: The nuclear weapons production and laboratory system created during the Cold War is simply far too large for the current military situation and needs drastic consolidation that includes the closing of labs and other facilities.
"Wide latitude granted to nuclear weapons contractors, bolstered by national security secrecy, have enabled widespread problems in the handling and disposal of radioactive materials- problems that now constitute the largest and most expensive environmental mess in the United States. There were regular and frightening nuclear safety and safeguard lapses. Efforts to fix old weapons facilities and to build new ones became all-but-endless money-devouring boondoggles." Read more at The Bulletin
---
For immediate release Jan 13, 2015:
In New Report, Dr. Doyle Calls For Urgent Multi-Agency Focus on Non-Proliferation and Verification
"Washington DC. Today, nonproliferation expert Dr. James Doyle is releasing a report making the case for expansion of the nation's nonproliferation programs, and will brief key congressional staff on his findings..." (View/download NukeWatch press release Jan 13, 2015)
Essential Capabilities for Nuclear Security
A National Program for Nonproliferation and Verification Technology Development
A new report from Dr. James Doyle and Nuclear Watch New Mexico
From the executive summary:
"Achieving nuclear security in the 21st century and beyond requires a far more diverse set of national capabilities than during the Cold War. Today's nuclear threats are more geographically dispersed, varied and nuanced...
"Nuclear weapons... cannot counter the full spectrum of nuclear security challenges facing the nation and the world in the decades ahead. Nor can they counter or deter the most likely nuclear threats to the nation...
"...almost five years after the 2010 Nuclear Posture Review called for a national program on 'expanded work on verification technologies and the development of transparency measures', there has been no substantial follow-up. As a consequence, the technical and human capabilities needed to reduce the most likely nuclear threats to the nation are being neglected with perilous consequences.
"The missions of nonproliferation and arms verification have for too long been considered part of the 'soft power' tools of the diplomatic and arms control communities. Responsibility for them has been scattered across mid- to low level departments within several different agencies, without strong national champions in the interagency bureaucracy or Congress. The transformed nuclear security environment requires that we now consider these capabilities as vital elements of our national security infrastructure. They are potent 'smart power' tools offering unique advantages in a rapidly evolving nuclear security environment."
- Read more, including report recommendations: Executive Summary (PDF)
- Full report (PDF)- Essential Capabilities for Nuclear Security: A National Program for Nonproliferation and Verification Technology Development
---
How the Obama Administration Learned to Stop Worrying and Love the Bomb
US nuclear policy is undermining our safety and national security.
Theodore A. Postol, The Nation, Dec. 10. 2014

"In a highly celebrated speech in Prague in April 2009, Obama declared that "the existence of thousands of nuclear weapons is the most dangerous legacy of the Cold War," and he restated "America's commitment to seek the peace and security of a world without nuclear weapons." Later that year, the Nobel Committee cited the president's leadership on this issue when it awarded him the Peace Prize.
"Why, then, we must ask, is the Obama administration moving forward with an ambitious nuclear-weapons modernization program that could dramatically raise the threat of nuclear war?
"Many Russians, including those with moderate political views, believe the United States has been engaged in an endless campaign of disrespect, opportunism and predation toward Russia since the demise of the Soviet Union. Many Americans regard Russia as intransigent, dangerous and aggressive.
"This politically charged environment has grown increasingly tense since the Ukraine crisis erupted last winter. US nuclear hawks now regard the modernization program as an urgent national-security priority, while Russian leaders perceive US rhetoric about the need to increase the reliability of supposedly aging US forces as yet another lie aimed at lulling Russia into a trap.
"Sophisticated Russian analysts, especially those who understand the technical aspects of nuclear weapons, see the modernization drive as a disturbing indication that the US military believes a nuclear war against Russia can be fought and won.
"Our policy-makers have not attempted to analyze the benefit to US security of pushing the Russians to a higher state of alert. Nor have they asked how an increased US nuclear threat to Russia improves the security of US allies- or, for that matter, anyone else around the globe.
"This basic truth should be the basis for a sober re-evaluation of the modernization program: in a world that is fundamentally unpredictable, the pursuit of an unchallenged capacity to fight and win a nuclear war is a dangerous folly." More: Theodore A. Postol, The Nation, Dec. 10. 2014
Theodore Postol is Professor of Science, Technology and National Security Policy at MIT... more
---
Game On: East vs. West, Again
In 1990, Mikhail Gorbachev was apparently assured by top US officials that in return for allowing East and West Germany to unite and be a full NATO member, NATO would not expand "one inch" to the east. But by 2009, 12 more ex-Warsaw Pact nations had joined NATO.


Andrew Cockburn details the sequence of events that brought us to today's crisis in Ukraine:
"[For the arms contractors] one especially promising market was among the former members of the defunct Warsaw Pact. Were they to join NATO, they would be natural customers for products such as the F-16 fighter that Lockheed had inherited from General Dynamics.



"Didn't they tell us after the fall of the Berlin Wall that NATO would not expand eastwards? However, the expansion started immediately... This is the main issue of current international relations. Our partners never stopped. They decided they were the winners, they were an empire, while all the others were their vassals, and they needed to put the squeeze on them."
"Do we place our troops at US borders? Who is placing NATO troops, military infrastructure closer to us? Does anyone listen to us, talk to us about it? No, nothing. There is always the same response: it's not your business."
-Russian President Putin, 12/18/14 Press Conference

N.B.: NATO calls this narrative of an understanding "a myth" on its official website. See NATO-Russia Relations: The Facts

So was there an understanding that NATO would not expand to the East? In a 2009 article for Foreign Policy titled "A Diplomatic Mystery", former senator Bill Bradley attempts to cast light on "a misunderstanding... that has brought decades of grief."

In the same year, Der Spiegel examined the mystery more extensively; see "NATO's Eastward Expansion: Did the West Break Its Promise to Moscow?"

"There was one minor impediment... Secretary of State James Baker had unequivocally spelled out Washington's end of that bargain in a private conversation with Mikhail Gorbachev in February 1990, pledging that NATO forces would not move "one inch to the east", provided the Soviets agreed to NATO membership for a unified Germany.
"Even at the beginning, not everyone in the administration was intent on honoring this promise. Robert Gates noted in his memoirs that Dick Cheney, then the defense secretary, took a more opportunistic tack: 'When the Soviet Union was collapsing in late 1991, Dick wanted to see the dismantlement not only of the Soviet Union and the Russian empire but of Russia itself, so it could never again be a threat to the rest of the world.'
"Expanding NATO would be the most fateful error of American policy in the post cold-war era. Such a decision may be expected to inflame the nationalistic, anti-Western and militaristic tendencies in Russian opinion; to have an adverse effect on the development of Russian democracy; to restore the atmosphere of the cold war to East-West relations, and to impel Russian foreign policy in directions decidedly not to our liking."
- George F. Kennan, 1997
"... As it happened, NATO was indeed active, under Bill Clinton's leadership, and moving decisively to expand eastward, whatever prior Republican understandings there might have been with the Russians... Already plushly installed in Warsaw and other Eastern European capitals were emissaries of the defense contractors. 'Lockheed began looking at Poland right after the Wall came down,' Dick Pawloski, for years a Lockheed salesman active in Eastern Europe, told me. 'There were contractors flooding through all those countries.'
"The vision of [Lockheed Martin CEO] Augustine and his peers that an enlarged NATO could be a fruitful market has become a reality. By 2014, the twelve new members had purchased close to $17 billion worth of American weapons, while this past October Romania celebrated the arrival of Eastern Europe's first $134 million Lockheed Martin Aegis Ashore missile-defense system." Game On, Harper's, January 2015

Andrew Cockburn is currently Washington Editor of Harper's Magazine. Cockburn's most recent book is "Rumsfeld: His Rise, Fall, and Catastrophic Legacy". more
---
---
Critical Events

---
March 5, 2015:
45th Anniversary of the NNPT
45 years ago today, March 5, 1970, the Nuclear Non-Proliferation Treaty entered into force. In a press statement from the US Secretary of State John Kerry: "All countries profit when there is smart, continuous action in the direction of nuclear disarmament." (read the full statement)
---
March 5, 2015, Carlsbad, NM:
WIPP Town Hall Meeting
5:30 p.m. Thursday, March 5 at Carlsbad City Hall.
Livestream here (approx 90 min.)
---
March 23-24 2015, Wash. DC:
Carnegie Int'l Nuclear Policy Conference
Registration is now open. For updates about the conference, follow the Nuclear Policy Program on Facebook and Twitter @carnegienpp, and join the conversation with #nukefest2015.
(More info at Carnegie site)
---
April 27- May 22 2015, New York City:
2015 NPT Review Conference
The 2015 Review Conference of the Parties to the Treaty on the Non-Proliferation of Nuclear Weapons (NPT) will meet from April 27 to May 22 in New York City, with special events beginning the 24th of April.
- Information for civil society participation
- Calendar of Events
---
May 18-20, 2015, Wash. DC
DC Days! 2015
Organized by the Alliance for Nuclear Accountability.
(Training Day Friday May 17.) (more info to come)
---
For an extensive weekly listing of nuclear-related events worldwide, subscribe to the Nuclear Calendar
---
LANL's Central Mission
Los Alamos Lab officials have recently claimed that LANL has moved away from primarily nuclear weapons to "national security", but what truly remains as the Labs central mission? Here's the answer from one of its own documents:
LANL's "Central Mission"- Presented at: RPI Nuclear Data 2011 Symposium for Criticality Safety and Reactor Applications
(PDF) 4/27/11
Quote of the Week

---
"It's a really dangerous precedent. They [the Dept. of Energy] are saying they are above the law and that states don't have authority to hold them accountable. That is a fight we are willing to have with DOE and we will not back down on that issue."
- New Mexico Environment Department Secretary Ryan Flynn, regarding the DOE's refusal to pay $54 million in fines New Mexico has levied on LANL and WIPP over multiple violations and failures associated with the Valentine's Day 2014 radiation leak incident at the waste repository.
(Report, Albuquerque Journal, Feb 13, 2015)
---
Nuclear News
---
---

Munich Security Conference Feb 6-9 2015
Ukraine crisis, Iran talks: Here is an excellent collection of press reviews and analyses.
---
Radioactive Quotes

---
"The ICRC [International Committee of the Red Cross] concluded as early as September 1945 that the humanitarian consequences of nuclear weapons were simply unacceptable. From a humanitarian perspective, nuclear weapons should be abolished."

Peter Maurer, president of the ICRC, to the diplomatic community in Geneva Feb 18, 2015, calling for an end to "the era of nuclear weapons".

[link]
"The US modernization program is producing nuclear forces that will severely complicate the chances of backing away from disaster if a crisis were to occur. Anyone who looks at history knows that such crises will occur, and that they result from unpredictable and unforeseen events. This basic truth should be the basis for a sober re-evaluation of the modernization program. In a world that is fundamentally unpredictable, the pursuit of an unchallenged capacity to fight and win a nuclear war is a dangerous folly."

Theodore A. Postol, The Nation, Dec. 10. 2014

[link]
"If we fail to prevent nuclear war, all of our other efforts to secure peace and justice will be for naught.
We need to stigmatize, prohibit, and eliminate nuclear weapons."

Final Declaration, 14th World Summit of Nobel Peace Laureates, Rome Dec 12-14, 2014.

[link]
---
"The people who are the most anti-nuclear are the ones who know the most about it."
-Eric Schlosser, "Command and Control"
---
Every little bit helps!
Remember: contributions are tax-deductible!
*Go to donations page* Thanks for your support!