Arsenal of Information
---
---
---
New Infographic page:
Nuclear Testing Since 1945
---
Nuclear Watch Interactive Map of the
Nuclear Weapons Complex- View full size
Facilities:
Facilities:
Kansas City Plant
Lawrence Livermore National Labs
Los Alamos National Laboratory
Nevada National Security Site
Pantex Plant
Sandia National Laboratories
Savannah River Site
Washington DC
Waste Isolation Pilot Plant (WIPP)
Y-12 National Security Complex
---

Recent visitors - click to enlarge
---
Please help us in our work to rid the world of the dangers of nuclear weapons by making a donation!
---
Nuclear WatchBlog Goes Live
The Nuclear Watch New Mexico Blog is now live on the web. We intend to use it to post timely
information and commentary, as well as encourage informed discussion of nuclear weapons policy issues, particularly as they pertain to the Los Alamos National Laboratory and the nuclear weapons complex as a whole.
Interested persons can read items and post comments. Content can be subscribed to via RSS feed. To facilitate the clarity of the "informed" discussion, all comments will be moderated to ensure they are topical, meet basic norms of civility and screened for spam.

Featured on the Watchblog, Aug 8, 2012:

Cleanup, Don't Build Up, Nuke Weapons Programs! Hundreds of Jobs Could Be Created that Protect the Environment: A NukeWatch report
Download our fact sheet here (PDF 9/12).
---
Nuclear Watch Media
---
See the NukeWatch YouTube channel
for our collection of videos.
---
Audio Podcasts: Jay Coghlan on Unicopia Radio
November 10, 2012; October 6, 2012; August 25, 2012
---
CMRR Public Meeting September 25th
Held at Fuller Lodge, Los Alamos
View the Nukewatch PowerPoint presentation (PDF) from the meeting here
---
"Occupy Los Alamos!"
Download Jay Coghlan's Power-Point presentation (PDF) given in Santa Fe, April, 2012.
---
The Case for Stockpile Curatorship
-Presentation by Jay Coghlan at the Peace and Security Legislative Strategy Retreat 1/15/2009
View/download full PDF
---

"What the public doesn't really understand is that the nuclear weapons business is very much ongoing, that funding for nuclear weapons programs within the Department of Energy is nearly 50 percent above the historic average of the Cold War. . . Despite the rhetoric that this country and others are working towards a future world free of nuclear weapons, on the ground what is happening is that the U.S. is rebuilding the production side of its nuclear weapons complex."
- Jay Coghlan on DemocracyNow Oct 11, 2012
---
LANL's Future: More Plutonium or More Cleanup?
Jay Coghlan speaking in Santa Fe, Oct.21, 2012
---
Scott Kovac, Operations and Research Director, Nuclear Watch New Mexico debunking the argument that the economic impact of the proposed new nuclear facility at Los Alamos is an efficient use of $6 billion.
---
Vintage Videos:
Ed Grothus Interview at the Black Hole
Part 1 (28:59) Part 2 (26:37)
New Mexicans for Sustainable Energy
and Effective Stewardship (26:30)
Stop Divine Strake! Part 3 (30 minute)
Stop Divine Strake! Part 4 (30 minute)
DOE Nuclear Waste Issues (29 minute)
---
Following the Money
---
See the FY 2013 NNSA Weapons Budget Request
---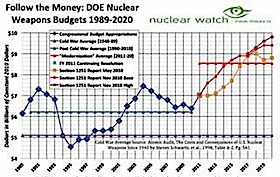 Click to enlarge image
A chart of Energy Department Weapons Activities Budgets compared to the average spent during the Cold War. Is this the direction we want spending to go for Nuclear Weapons?
See our fact sheet for details -11/24/2010
---
GAO: accounting problems at DOD so significant that a federal audit cannot be done.
Read the January 17, 2013 GAO Report
---
President Obama's pick to become the nation's next secretary of energy is drawing criticism for his ties to the fossil fuel, fracking and nuclear industries. MIT nuclear physicist Ernest Moniz has served on advisory boards for BP and General Electric. Public Citizen and Food & Water Watch are campaigning against Moniz's nomination, but the Natural Resources Defense Council has praised his work on advancing clean energy based on efficiency and renewable power. Amy Goodman speaks with Kevin Connor of the Public Accountability Initiative and ProPublica reporter Justin Elliott, both of whom have authored investigations into Moniz's ties to industry. (Democracy Now, 3/26)
---
Nuclear Weapons Lobby Reportedly Spent $2.9 Million To Stave Off Military Cuts
"The nuclear weapons industry is erecting a missile shield of money to prevent federal government spending cuts worth billions of dollars. In the 2012 election cycle, nuclear weapons lobbies have given a total of $2.9 million to key members of Congress and deployed no fewer than 137 revolving-door lobbyists to Capitol Hill, according to a new report that details the lengths to which arms makers will go to protect their turf." (story)
"Nuclear weapons spending should be determined
by what is needed to defend the country, not what is needed to defend the bottom lines of military contractors," said study author William Hartung, who directs CIP's Arms and Security Project. "Instead, the nuclear arms lobby and its allies on Capitol Hill are seeking to block reductions in systems we don't need at prices we can't afford. This unnecessary spending is being pressed by some of the very same members of Congress who have argued that deficit reduction and greater spending discipline should be our top priorities."
"Bombs Versus Budgets: Inside the Nuclear Weapons Lobby", prepared by the Center for International Policy. (download PDF)
---

click to enlarge Exploding Costs by Trever, ABQJournal
---
---
"Another year of stalemate is unacceptable"

Ban Ki-Moon: "Deferring nuclear disarmament indefinitely pending the satisfaction of an endlessly growing list of preconditions can lead only to a world full of nuclear weapons. When I spoke to the Conference on Disarmament in Geneva, I said plainly that the very credibility of the body is at risk. The Conference's record of achievement is overshadowed by inertia that has now lasted for more than a decade.  That must change. Another year of stalemate in the Conference on Disarmament is simply unacceptable."
-UN Sec.Gen. Ban Ki-Moon speaking at the Monterey Institute Jan 18, 2013 on nuclear disarmament and non-proliferation efforts. See his full talk here.
---
Rethinking the Unthinkable
"The longer we have gone without seeing nuclear weapons used, the more we assume they will not be used. Three new books challenge that complacency, from three different directions."
Bill Keller, former New York Times Chief Editor, reviews "Five Myths About Nuclear Weapons" by Ward Wilson, "The Second Nuclear Age" by Paul Bracken, and "Nuclear Iran" by David Patrikarakos. (Read the review)
---
Senators Lugar and Nunn Honored
Senators Dick Lugar and Sam Nunn were honored by the Carnegie Endowment for International Peace in The Hague for their role in helping ex-Soviet states secure and dismantle huge stocks of nuclear, chemical and biological weapons. The prize will henceforth carry their names: The Nunn-Lugar Award for Promoting Nuclear Security.
---
The JASON Advisory Group
JASON is an independent group of scientists which advises the United States government on matters of science and technology; over the decades its members have included 11 Nobel prize laureates.
See a selection of JASON's nuclear-weapons production-related reports on our JASON page.
---
Chris Jordan, "Unsinkable" (2013)
Composed of 67,000 mushroom cloud images- equal to the number of metric tons of ultra-radioactive uranium/plutonium waste being stored in temporary pools at the 104 nuclear power plants across the U.S. These waste pools must be cooled with hundreds of thousands of gallons of constantly circulating water, and many plants have inadequate or nonexistent backup cooling systems in case of power loss.
(see "Unsinkable" blow-up and more Chris Jordan art)
---
Nuclear Weapons in a Changing World
Joseph Cirincione, president of the Ploughshares Fund, together with other panelists in this discussion hosted by the New America Foundation on 6/29/2011.
---
SUNY Albany historian Larry Wittner examines the disparity between American public opinion and political attitudes toward nuclear disarmament. Statistically, Americans favor disarmament, while government officials are reluctant.
---
Reason over Relics:
Restructuring our Nuclear Force
Lt. Gen. Robert Gard (Ret.), chairman, Center for Arms Control and Non-Proliferation:
"With the end of the cold war, the world has changed, and those who ardently defend massive spending on nuclear weapons are either unaware of, or unwilling to consider, the changed strategic landscape. Our current nuclear force structure is a holdover from an era where the overarching goal was deterring a Soviet nuclear attack on the United States or an invasion of Europe. Every submarine in our fleet today can single-handedly destroy every major city in either China or Russia and completely obliterate smaller nations. If the essence of deterrence is a credible threat, then its safe to say we can make significant reductions with no impact whatsoever on our deterrent or security capacity." (ref)
---
Living Near Lawrence Livermore Labs
Abby Martin, who grew up 10 miles from Lawrence Livermore, investigates ongoing health and environmental problems in the communities around the Labs. (see full transcript)
---
---
One Minute Closer To Midnight
Bulletin of the Atomic Scientists: "It is five minutes to midnight. Two years ago, it appeared that world leaders might address the truly global threats that we face. In many cases, that trend has not continued or been reversed. For that reason, the Bulletin of the Atomic Scientists is moving the clock hand one minute closer to midnight, back to its time in 2007." (Read more at the Bulletin's website)
Read Martin Hellman's 2011 risk analysis of the nuclear status quo (PDF): How Risky is Nuclear Optimism?
---
---
UCS Nuclear Weapons Complex Interactive Map
The Union of Concerned Scientists has created an interactive map of the U.S. nuclear weapons complex sites in Google Earth, providing information, collected from public sources, about each facility. (more info, KML file, etc.)
---
New & Updated
---
NNSA Penalizes Sandia; In Response Labs Director Says the Needs of the Nuclear Weapons Stockpile May Not Be Met
Nuclear Watch NM Press Release May 17:
Albuquerque's KRQE TV Channel 13 investigative reporter Larry Barker has found that "after calling employee safety standards "inexcusable," the Department of Energy's National Nuclear Security Administration recently withheld more than $6 million in incentive fees from Sandia [National Laboratories] as punishment Lab director, Dr. Paul Hommert, defended Sandia's handling of the Alaskan incident to the federal government. But, in a strongly-worded rebuke, NNSA Acting Director Neile Miller called Hommert's version of the Kodiak events "disingenuous," characterized Sandia's response to the accident as "minimal" and said she was disturbed that no disciplinary action was ever taken against the employees involved."
Jay Coghlan, Nuclear Watch New Mexico Director, commented, "In response to NNSA's criticism and proposed penalty, in effect Hommert tells the federal government to give us the money or the safety and reliability of the nation's nuclear weapons stockpile is at risk. There is an inherent conflict of interest in having the nuclear weapons labs directors also acting as presidents of the for-profit limited liability corporations that run the labs. As part of badly need reform and strengthening of federal oversight, these two positions should be strictly separated so that the American public can be fully confident that profoundly serious nuclear weapons policy decisions are not being influenced by private profit motives."
Read the full press release here (PDF)
---
Greg Boertje-Obed, 56, Megan Rice, 83, and Michael Walli, 64: Convicted
Guilty of trespass, destruction of government property, and damaging a defense facility under the Sabotage Act, the protestors are now facing prison terms of more than 20 years.
"'Our intent was to bring healing and forgiveness and love," said Rice, but prosecutors say they caused $8,532 of damage to property and also threatened national defense." (ref).


Sentencing is scheduled for Sept. 23. In the next days the judge will decide if the defendants can be freed pending sentencing; the government claims they are "violent" criminals and thus should remain in jail, particularly since, as the prosecutor said, Sister Rice's testimony "showed a complete lack of remorse". Top punishment for the national defense charge alone is 20 years in prison, a life sentence for Sister Rice, who is 83 years old; defense attorneys are seeking to have that charge tossed. It is a strange state of affairs when the government brings the full force of a harsh prosecution on an 83 year old nun for the crime of injuring national defense by throwing paint at a secret building, when at the same time we learn that 17 Air Force officers in charge of nuclear missile crews have been "removed" after the Pentagon found "rot in the crew force", including "safety violations, potential violations in protecting codes, and basic attitude problems." Not to mention the lack of prosecutions of the kings of finance whose corruption wrecked the world economy.
Injury to National Defense?
The main point of objection regarding the "injury to national defense" charge, which carries the 20 year penalty, was that the protestors didn't injure national defense; they cut through fences, hung peace banners, and scrawled bible verses on the outer walls of the HEUM Facility, and when a guard approached, they offered him food and started singing. Their protest actions were symbolic. The main impact was to expose the lamentable state of security at the Y-12 nuclear weapons complex, triggering a wholesale review, including the suspension of the primary security contractor. "The severity of the failure of leadership at Y-12 has demanded swift, strong and decisive action by the department. Since the Y-12 incursion, major actions have taken place to improve security immediately, and for the long term." Neile Miller, acting administrator of the National Nuclear Security Administration said. So it could even be argued that the protestors had the opposite effect, to wit, they exposed- and thereby caused to be remedied- an unseen and ongoing threat to national security.
Instead, prosecution argued that the 2 week suspension of operations during the security review, and the "disruption to operations" that "continues to this day" were a measure of the seriousness of the protestors' crime, rather than a measure of the dysfunctional security situation their actions exposed. To further their point, prosecutors described how "a convoy of specially secured trucks carrying nuclear weapons parts or materials... had to be put on hold while security at the site was assessed and assured."
The real damage: "credibility".
According to Steve Erhart, NNSA's manager at the Y-12 plant and a government witness, the protestors' security breach "damaged Y-12's credibility" at home and abroad; the "abroad" referring to the program in which Y-12 receives for storage nuclear materials from vulnerable sites and states around the world. Erhart said it would be "hard to explain" the security breach to "countries looking to give up their nuclear materials because of their own security concerns", and that this would impact nuclear deterrence. (KnoxNews)
"It is manufacturing that which can only cause death."
Of course, Sister Rice was not leading an in-house "Red Team" operation to identify security weaknesses as the first stage of an extensive security review, though the NNSA might have been smarter to claim as much, and gain the benefits of the break-in without the embarrassment. Sister Rice is a Christian anti-nuclear pacifist. Of the Y-12 Plant, she said,
"It is manufacturing that which can only cause death."
"'Do you consider yourself an American?' the government prosecutor asked Sister Megan Rice. 'I believe I am a citizen of the world,' answered Sister Megan. 'Boundaries are arbitrary.' The prosecutor went on to ask if Sister Megan had ever protested nuclear weapons by traveling to nuclear powers other than the United States. She responded that national borders are arbitrary lines; each and every human life on the planet is threatened by the use of nuclear weapons."(ref: Transform Now Plowshares)
POGO's Lydia Dennett wrote, "Hopefully, as the Transform Now Plowshares group faces sentencing, the judge will take into consideration both their peaceful intent and the spotlight that has since been put on Y-12 and the many security problems that have plagued the facility." (POGO Blog May 9)
Update May 13: In a remarkably ugly and vindictive decision, U.S. District Judge Amul Thapar ruled that Sister Rice, 83, and her two companions must remain imprisoned while awaiting their September 23rd sentencing hearing, because of the "seriousness of the offenses" and because "they showed no remorse" during the trial. (AP, Knoxville, Tenn.)
---
NNSA FY 2014 Budget Request
Download Nuclear Watch New Mexico's compilation of the National Nuclear Security Administration's FY 2014 budget request (PDF)- which in real terms includes a 16.7% increase for nuclear weapons programs over FY 2013 sequester levels, while funding for non-proliferation efforts is cut. Chairwoman Dianne Feinstein, at an April 24, 2013 Senate hearing, said "The nonproliferation program has become the payer for the nuclear weapons program." (see "Key Democrat Criticizes Nuke, Nonproliferation Budgets")
- View/download FY 2014 Budget Highlights and NWNM's Recommendations (PDF)
- View/download NWNM's budget breakdown charts (PDF) for:
Los Alamos Lab / Lawrence Livermore Labs / Sandia Labs.
- View/download Acting NNSA Administrator Neile Miller's prepared testimony to the April 24, 2013 Senate Energy and Water Developments Appropriations Subcommittee's on NNSA's proposed FY 2014 budget. (PDF)
And where is some of this increased weapons funding going? Hans Kristensen reports
in the FAS Security Blog: "B-2 Stealth Bomber To Carry New Nuclear Cruise Missile"
---
Days Of Blank Checks Are Over For Nuclear Weapons Establishment
Kevin Martin of Peace Action and Jay Coghlan of Nuclear Watch, in The Hill, April 26.
"Many of America's Cold War weapons are in the hands of one of its most obscure government agencies. It's called the National Nuclear Security Administration, and it was the subject of a senate budget hearing this week. The agency's obscurity to most taxpayers is exceeded only by its astonishing failure to acknowledge political and fiscal reality. . .
"The National Nuclear Security Administration, apparently indifferent to federal belt-tightening, thinks it needs a big raise. Stuck in the Cold War, the hey-day of nuclear spending, the agency in charge of the nation's nuclear weapons is calling for more spending in almost every category. . .
Graphic prepared by Robert Civiak, Tri-Valley Cares
"Congress needs to very carefully scrutinize the budget requests for exorbitant, controversial, and failing programs. The National Ignition Facility, Uranium Processing Facility and MOX (mixed oxide) fuel program are just a few examples of nuclear programs that are both mismanaged and unnecessary. Most Americans have never heard of these programs, yet American taxpayers will spend more than half a trillion dollars over the next decade on these and other nuclear capabilities that are irrelevant in the 21st century. . .
"NNSA and its managers won't like congressional oversight or fiscal responsibility. They should remember that they work for us, and Americans would rather invest our tax dollars in education, health care, job creation, and local law enforcement - the people who protect us everyday, not the people who watch over Cold War relics. The nuclear priesthood's blank check days are over." (Read the complete OpEd in The Hill, 4/26/13)

- Action Alert: Rep. Markey has reintroduced his important bill from last year (The SANE Act, aka H.R. 1506) that cuts over $100 billion in nuclear weapons spending. Use this online form to ask the representatives of your state to cosponsor the SANE Act.
---
DOE Wants to Ship Hanford High Level Waste to WIPP
Public Comment Period Open Until June 10
The 60-day public comment period has begun, and will end June 10.
(see DOE Public Notice) (Permit Modification Request)
A public meeting is scheduled for Tuesday, May 14, 2013, 3-5 p.m, at the Courtyard by Marriott, 3347 Cerrillos Road, Santa Fe, New Mexico. (Note: this is not one of the two 'public hearings' mentioned in the DOE request.)

Although the world's first geologic repository for military nuclear waste does not have room for all of the hottest waste it is supposed to handle, the federal government is proposing to disregard legal limits and expand the types and amounts of waste destined for the site, including both 'high level waste' from defense installations as well as spent nuclear fuel from commercial reactors. (see "WIPP: Expanding Threat to Public Health?", LaJacarita News)



In the clip at left, Don Hancock, director of the Nuclear Waste Safety program and administrator at Southwest Research and Information Center in Albuquerque, is interviewed by V.B. Price, New Mexico Mercury, about the proposed transfer of high-level radioactive waste from the Hanford site in Washington state to the WIPP site in Southern New Mexico. (source: No2WIPP.org)

Also: KUNM call-in radio show: Will WIPP Take Hanford's Nuclear Waste?
And at KPLU: Hanford waste shipment plan under debate in New Mexico

Tom Carpenter of Hanford Challenge will be speaking at the ABQ Peace & Justice Center on April 23rd at 6pm. Hanford Challenge, together with the Natural Resources Defense Council and The Southwest Resource and Information Center, sent a letter to Secretary of Energy Steven Chu regarding the DOE's costly, unwise and illegal "preferred alternative" to send Hanford tank wastes to the Waste Isolation Pilot Plant (WIPP) in Carlsbad, New Mexico, March 26, 2013.
---
$1 Billion for a Nuclear Bomb Tail
Hans M. Kristensen, April 12, FAS/Strategic Security Blog
Excerpts:
"The U.S. Air Force plans to spend more than $1 billion on developing a guided tailkit to increase the accuracy of the B61 nuclear bomb.
"The cost is detailed (to some extent) in the Air Force's budget request for FY 2014, which shows development and engineering through FY 2014 and full-scaled production starting in FY 2015.
"Production of the guided tailkit is intended to match completion of the first new B61-12 bomb in 2019, a program that is estimated to cost more than $10 billion. Although the number is a secret, it is thought that the U.S. plans to produce roughly 400 B61-12s.
"The expensive guided tailkit is needed, advocates claim, to make it possible to use the 50-kiloton nuclear explosive package from the tactical B61-4 bomb in the new B61-12 against targets that today require the 360-kiloton strategic B61-7 bomb. By increasing accuracy, the B61-12 becomes more useable because it significantly reduces the amount of radioactive fallout created in an attack.
"The combination of the new and more accurate guided B61-12 on the stealthy F-35A will significantly increase the capability of the U.S. non-strategic nuclear posture in Europe. This development is out of tune with U.S. and NATO pledges to reduce the role and reliance on nuclear weapons, and will make it a lot easier for hardliners in the Russian military to reject reductions of Russia's larger inventory of non-strategic nuclear weapons."
Read the full story at FAS/Strategic Security
Related: POGO Asks Secretary Hagel to Stop Funding B61 Nuclear Bomb Program in Europe
---
NPT PrepCon Geneva:
Joint Statement On The Humanitarian Impact Of Nuclear Weapons
Delivered by Ambassador Abdul Samad Minty of South Africa on behalf of 74 countries at the Non-Proliferation Treaty PrepCom in Geneva, Switzerland, April 24, 2013. (Full text)

"Our countries are deeply concerned about the catastrophic humanitarian consequences of nuclear weapons. While this has been known since nuclear weapons were first developed and is reflected in various UN resolutions and multilateral instruments, it has not been at the core of nuclear disarmament and nuclear non-proliferation deliberations for many years. Although it constitutes the raison d'tre of the NPT, which cautions against the "devastation that would be visited upon all mankind by a nuclear war and the consequent need to make every effort to avert the danger of such a war and to take measures to safeguard the security of peoples", this issue has consistently been ignored in the discourse on nuclear weapons...
"It is in the interest of the very survival of humanity that nuclear weapons are never used again, under any circumstances. The catastrophic effects of a nuclear weapon detonation, whether by accident, miscalculation or design, cannot be adequately addressed. All efforts must be exerted to eliminate this threat. The only way to guarantee that nuclear weapons will never be used again is through their total elimination. It is a shared responsibility of all States to prevent the use of nuclear weapons, to prevent their vertical and horizontal proliferation and to achieve nuclear disarmament, including through fulfilling the objectives of the NPT and achieving its universality. The full implementation of the 2010 Action Plan and previous outcomes aimed at achieving the objectives of the NPT must therefore not be postponed any further.
"Addressing the humanitarian impact of nuclear weapons is an absolute necessity. As an element that underpins the NPT, it is essential that the humanitarian consequences inform our work and actions during the current Review Cycle and beyond.
"This is an issue that affects not only governments, but each and every citizen of our interconnected world. By raising awareness about the catastrophic humanitarian consequences of nuclear weapons, civil society has a crucial role to play, side-by-side with governments, as we fulfill our responsibilities. We owe it to future generations to work together to rid our world of the threat posed by nuclear weapons." (Full text)
---
Next Steps in Reducing Nuclear Risks:
The Pace of Nonproliferation Work Today Doesn't Match the Urgency of the Threat
George P. Shultz, William J. Perry, Henry A. Kissinger, and Sam Nunn, WSJ, 3/5/2013
". . . Despite these considerable efforts, nuclear dangers remain all too real. Technological progress and the proliferation of nuclear weapons to additional states are compounded by dangerous complacency. Bilateral relations between the two largest nuclear powers, the United States and Russia, are frayed, and there are continuing difficulties in effectively addressing emerging nuclear threats in North Korea and Iran, punctuated recently by a test explosion in North Korea. Combined with the dangers of suicidal terrorist groups, the growing number of nations with nuclear arms and differing motives, aims, and ambitions poses very high and unpredictable risks.
"Global leaders owe it to their publics to reduce, and eventually to eliminate, these risks. Even during the Cold War, the leaders of the two superpowers sought to reduce the risk of nuclear war. What was possible among declared enemies is imperative in a world of increasing nuclear stockpiles in some nations, multiple nuclear military powers and growing diffusion of nuclear energy. A global effort is needed to reduce reliance on nuclear weapons, prevent their spread, and ultimately end them as a threat to the world. It will take leadership, creative approaches and thoughtful understanding of the perils of inaction. Near-term results would lay the foundation for transforming global security policies over the medium and long term. We suggest four areas requiring urgent consideration:"
Read "Next Steps in Reducing Nuclear Risks: The Pace of Nonproliferation Work Today Doesn't Match the Urgency of the Threat" at NSP
---
Why Eliminate Nuclear Weapons?
James E. Doyle
From the journal "Survival: Global Politics and Strategy", Volume 55, Issue 1, 2013, a publication of The International Institute For Strategic Studies. James E. Doyle is a nuclear security and non-proliferation specialist at Los Alamos National Laboratory. He is the editor of Nuclear Safeguards, Security, and Nonproliferation: Achieving Security With Technology and Policy (Elsevier, 2008). The views presented in this article are the author's own and do not represent those of the Los Alamos National Laboratory or the US government.

". . . Recent scholarship in the fields of history and deterrence theory questions deeply held beliefs regarding how nuclear weapons might influence the behavior of national decision-makers. For example, declassified official documents from the Cold War reveal occasions when nuclear catastrophe was avoided by luck or seemingly random events rather than by the clearly identifiable operation of nuclear deterrence. There are further examples where existential characteristics of alerted nuclear forces appear to have caused crises that nearly resulted in their use. Finally, a growing number of strategists and technical and political elites regard nuclear weapons and deterrence theory as anachronistic.
"Many citizens, scientists and laymen alike, view nuclear weapons abolition as an essential milestone in the development of human civilisation, a moral, ideological and practical campaign that could catalyze the transformation of international relations and improve the outlook for civilisation at a critical time."
(The above are excerpts- read or download the full text here)
---
NNSA Defends Contract Extensions but Congressional Scrutiny Expected
Douglas P. Guarino, Global Security Newswire, March 12, 2013
"The National Nuclear Security Administration is defending itself against charges that it renewed lucrative deals for undeserving contractors, but the issue is likely to come up at congressional oversight hearings in the coming months, sources say.
"Nuclear Watch New Mexico said last week that earning at least 80 percent of an 'at-risk incentive award fee is the threshold for eligibility for a one-year contract extension' at NNSA sites. The firm that manages the Los Alamos National Laboratory in New Mexico 'received only 68 percent of its possible at-risk award fee of $46.5 million for the last budget year, primarily because of cost overruns that ballooned a security project from $213 million to $254 million,' according to a press release from the organization.
"Nonetheless, Neile Miller, then the agency's top award determining official and now its acting chief, overrode a decision by NNSA site personnel and granted Los Alamos National Security a waiver that extends its contract through fiscal 2018, the group said.
"According to Nuclear Watch, a similar situation occurred regarding the contract of a consortium- consisting of Bechtel National, the University of California, Babcock and Wilcox, the Washington Division of URS and Battelle- that manages the Lawrence Livermore National Laboratory in California. Lawrence Livermore National Security earned 78 percent of its 'available at-risk incentive fee, still short of the gateway of 80 percent,' the group said. 'However, acting NNSA Administrator Neile Miller overrode that too, giving the lab contractor an extra $541,527 to help it meet the 80 percent mark and extending the management contract another year.'
"Nuclear Watch New Mexico cited the spiraling cost of the Los Alamos security system for its Technical Area 55 as one of a number of NNSA projects in which expenses have exceeded projections. The organization said that to avoid future cost overruns, the government should emphasize conservative life-extension programs for nuclear warheads that do not involve the creation of new military capabilities. In addition to costing more, introducing "untested changes to existing nuclear weapons" could "erode confidence in their reliability," the group suggested. Congress should also "pull the plug on exorbitant failed projects" such as Lawrence Livermore's National Ignition Facility and an unfinished plant for turning nuclear-weapon plutonium into reactor fuel at the Savannah River Site in South Carolina, the group says." (Read full story at NTI)
View/download the Nuclear Watch Press Release
---
NNSA Releases FY 2012 Performance Evaluation Reports to Nuclear Watch
The National Nuclear Security Administration (NNSA) has recently released fiscal year 2012 Performance Evaluation Reports on its contractors at its eight nuclear weapons sites, following Nuclear Watch New Mexico's successful lawsuit for its FY 2011 Reports. These assessments are the scorecards for Performance Evaluation Plans negotiated between the government and its nuclear weapons contractors, which awards the contractors tens of millions of taxpayers' dollars. Public access to these reports is of increasing importance as federal oversight is being continuously diminished. The trend of soaring contractor profits paired with decreasing accountability should be reversed, especially given sequester budget cuts that will further handicap federal oversight.
View/download the full PERs, and our excerpts, read analyses and follow-ups here.
---
Why is our nuclear arsenal exempt from sequestration?
The Nuke Plan to Nowhere
William Hartung, Director, Arms and Security Project, Center for International Policy, March 4, 2013, Huffington Post

"The House Appropriations Committee announced today that it wants to throw away billions of your tax dollars on weapons we don't need at prices we can't afford. How has it done this? By voting to exempt spending on nuclear weapons from the kinds of budget cuts that will be imposed on other agencies under the sequester.
"At an estimated $640 billion over the next decade, nuclear weapons and related spending are long overdue for a strong dose of budget discipline. In fact, targeted cuts to our overstocked nuclear arsenal will make us all safer while saving tens of billions of dollars in the process.
"The National Nuclear Security Administration (NNSA)- the agency that oversees the nuclear warhead complex- may well be the most bloated agency in the federal government. It has been tagged by the Government Accountability Office as being at high risk for "waste, fraud and abuse."
"NNSA may well take the prize for the highest proportion of projects that are over budget, behind schedule, and, in most cases, unneeded in the first place. At the top of the list is the B61-12 nuclear bomb. The B61 program is now estimated to cost $10 billion by the time it's done, producing bombs that literally cost more than their weight in gold. To add insult to injury, a primary mission for the B61- deployment to Europe- is a legacy of the Cold War that bears no relationship to current defense needs.
"Other horror stories of overpriced and unnecessary projects at the NNSA abound. In April 2011, well before the onslaught of sequester-mania, the Alliance for Nuclear Accountability put out a handy report called "Nuclear Reality Checks" that highlighted no fewer than nine multibillion-dollar projects at NNSA that should be either scaled back or eliminated altogether.
"If Congress wants to cut the deficit intelligently, it should be finding ways to eliminate unnecessary and poorly managed projects in the nuclear weapons complex, not shielding nuclear programs from budget reductions." (View the complete column at HuffPo)
---
Military Wisdom and Nuclear Weapons
Ward Wilson, National Defense University: Joint Force Quarterly
From the article abstract: "A mystique surrounds nuclear weapons, so the discourse has often been characterized by wishful thinking or an exaggerated sense of their impact. As the wish to do away with nuclear arms grows while at the same time they proliferate to unstable actors, reasoned military thinking regarding their actual military utility must offset fanciful speculation." (full article )
---
Security Review: A culture of Permissiveness in DOE and NNSA
"a pervasive culture of tolerating the intolerable and accepting the unacceptable."
In response to the recent break-in at Y-12 National Security Complex by an 82-year-old nun and her two accomplices, Secretary of Energy Steven Chu asked three experts to review the physical security of U.S. nuclear weapons facilities. Retired Lockheed Martin CEO Norman Augustine, retired Air Force Maj. Gen. C. Donald Alston, and former Chairman of the Nuclear Regulatory Commission Richard Meserve each provided Secretary Chu with a letter detailing their findings. They each came to the conclusion that significant changes must be made to the way the U.S. views and implements physical security at nuclear weapons facilities.

Norman Augustine's letter to Secretary Chu is the most thorough examination of the various reasons for Y-12's security failures and the future security options for the nuclear complex as a whole. Augustine found one of the most troubling causes of this security breach was a culture of permissiveness within the Department of Energy (DOE) and the National Nuclear Security Administration (NNSA), "a pervasive culture of tolerating the intolerable and accepting the unacceptable." Augustine repeated what countless experts, reviewers, and commissioners have said before, that it is time for a concrete and legitimate change in the way the DOE and NNSA secure our nuclear weapons. "The problem the Department faces within the context of this review is a culture of permissiveness, amplified by the absence of day-to-day accountability and exacerbated, in the case of Y-12, by an ineffectual governance structure." (Read more: Experts: Now is the Time for Nuclear Security Changes)
---
Nuclear Watch Helps To Get Nuclear Weapons Contractors' Performance Reports Made Public
After much watchdogging from Nuclear Watch New Mexico and a new statutory requirement in the FY 2013 National Defense Authorization Act, the annual federal award assessments that determine the profits of the nation's nuclear weapons contractors will be publicly released. This follows NukeWatch's Freedom of Information Act request last year that succeeded in obtaining only heavily redacted award reports. We subsequently 1) sued to successfully obtain the reports in full, and 2) asked the Senate Armed Services Committee to require their annual release, now codified in the final Act signed by the President.
(Read our Press release here)
View our handy table of the award fees here. (PDF)
---
Cost Comparison Debunks LANL's Outrageous Cleanup Estimate
Scott Kovac, Dec 19, Santa Fe.
Can it possibly cost $29 billion to clean up 51 acres? (That's $568.6 million per acre!) The answer is yes if the estimate comes from Los Alamos National Laboratory. In an evaluation released in September 2011, that's what LANL said it would cost to remove the buried waste at Area G, the Lab's largest waste dump. Basically, the estimated costs break out as $9 billion for the direct work (mostly excavation and shipping), and $18 billion in indirect costs to run the show (mostly management and contingency). There's another $2 billion "to account for the non-labor costs associated with temporary utilities/services, small tools, consumables, construction equipment not specifically identified in direct work line items, and training costs."

All these costs are burdened to include New Mexico gross receipts tax, general and administrative, infrastructure, and Associate Directorate support taxes. With the exception of the NM gross receipts tax, the rest are internal burdens that the Lab charges itself. In 2009 one half of every dollar spent at the lab went to support indirect costs and profits.

NukeWatch has run cost comparisons between the estimate for Area G and two other excavation projects at the Lab. At six acres, excavation of Materials Disposal Area B is almost complete, so we have hard costs. (It is around $22.7 million per acre.) An evaluation of Materials Disposal Area C was released this September. The estimated costs for excavation of the 11.8-acre site came out to be $66.7 million per acre. Read the Cost comparison here.

Excavation of the wastes at Los Alamos must be accurately estimated, so that the waste can actually be removed, or else unrealistically high removal costs will keep the waste poised above our aquifer forever.
---
Cathie Sullivan's charming hand-printed note cards are now available at Etsy.com. Cathie is a long-time supporter and board member of Nuclear Watch New Mexico, and she is generously donating part of each sale to Nuclear Watch. Enjoy her selection at Etsy- and please Tweet and Facebook her cards too!
Critical Events
---
Alert: Comments are due June 10 5pm:
Use this online form to send your comment

High Level Waste, Spent Nuclear Fuel to WIPP?
SRIC has launched a new blog and newsletter to address this issue:
"Our mission and purpose is to regularly update people about high-level waste transportation and storage in New Mexico so that people can become involved in protecting the health, safety, and environment for present and future generations.
"Due to the potential for catastrophic disasters occurring on the highway, and at the WIPP site near Carlsbad, from high-level waste, we are expanding our outreach to inform and update in a more immediate format in order to reach a wider audience and answer the following questions.
"Why should you care? What does this problem mean to your future? What are the dangers? Are the benefits of storage worth the risks? How is the problem handled in the state and national press?
"Most importantly this newsletter will provide updates on current issues and decisions that affect New Mexico." (Use this online form for comments which are due June 10 5pm)
(subscribe to newsletter).
---
Scott Kovac, Operations and Research Director at NukeWatch, at the recent Defense Nuclear Facilities Safety Board March 14 Public Meeting in Amarillo, TX. Photo courtesy Dale Livingston. See "NNSA outlines steps taken to improve safety culture at Pantex"
---
No Mobile Chernobyl! No Fukushima Freeways!
In a somewhat unusual move, the Senate Energy Committee is accepting public comments on the draft bill to allow "interim" storage of high-level radioactive waste at WIPP, (note that the "interim" part is increasingly tenuous). This is probably our final opportunity before a bill is formally introduced to make it clear that we will not accept "interim" storage of high-level radioactive waste; we will not accept our roads and railways burdened with thousands of casks of lethal nuclear waste moving to a "temporary" unsuitable location for the convenience of the nuclear power industry.  
 Add your voice now. Tell the Committee that "interim" storage is unacceptable. Stop a Mobile Chernobyl. No Fukushima Freeways!
---
Radioactive Quotes

---
"The nonproliferation program has become the payer for the nuclear weapons program."

Chairwoman Dianne Feinstein, at the April 24, 2013 Senate Energy and Water Developments Appropriations Subcommittee hearing on NNSA's proposed FY 2014 budget

[link]
"There seem to be two Obama Administrations- two American governments, really. One looks like a democracy in which an open government accountable to the people is an ideal and a priority; and the other is a national security state, where claims of national security often trump democratic principles such as the people's right to know, civil liberties, freedom of speech, and whistleblower protections. "

Testimony of Angela Canterbury, Director of Public Policy, Project On Government Oversight, before
the House Committee on Oversight and Government Reform on March 13, 2013

[link]
---
Nuclear News
---
---
LANL's Central Mission
Los Alamos Lab officials have recently claimed that LANL has moved away from primarily nuclear weapons to "national security", but what truly remains as the Labs central mission? Here's the answer from one of its own documents:
LANL's "Central Mission"- Presented at: RPI Nuclear Data 2011 Symposium for Criticality Safety and Reactor Applications
(PDF) 4/27/11
---
POGO Calls for MOX Termination
Project on Government Oversight: "We're hearing a lot these days about the federal budget crisis. You'd think that with all this talk about the need for austerity, Congress and President Obama would have no problem cutting unneeded and unwanted, projects from the budget. Then why are some members of Congress insisting that we continue to fund a nuclear boondoggle that may end up costing taxpayers $22.1 billion, an unfathomable increase over the original $1.6 billion price tag?
"It's called the Mixed Oxide Fuel Fabrication (MOX) Facility at the Department of Energy's Savannah River site in South Carolina. The facility was designed to convert weapons-grade plutonium into fuel for use in nuclear energy reactors but the project is a decade behind schedule, and billions of dollars over budget. What's more not a single customer has been lined up. Not one.
"But it gets worse. There's a plan to spend another $1 billion on the program- just to finish the roof over the facility and then mothball it. That is a pretty expensive roof. And aerial photos show the roof is already constructed. We say stop throwing more money at the program." Tell Your Representatives to Cut Funding for the Fuel to Nowhere Facility!

Update April10: "Obama budget could put end to MOX" The new budget states: "This current plutonium disposition approach may be unaffordable, due to cost growth and fiscal pressure."
---
Tell Congress:
Put the Nuclear Weapons Budget on the Table

Dec. 5, 2012 The showdown over the so-called "fiscal cliff" in Washington has begun. On the table are $1 trillion in automatic spending cuts... if we don't cut the Pentagon- and specifically the nuclear weapons budget- then that means more cuts to Social Security, Medicare and Medicaid. Rep. Markey has reintroduced his important bill from last year (The SANE Act aka H.R. 1506) that cuts over $100 billion in nuclear weapons spending. Use this online form to ask the representatives of your state to cosponsor the SANE Act.
---
November 16, 2012 Jay Coghlan gave a presentation to the Regional Coalition of LANL Communities.
"We believe that when LANL wants to do something it lowballs the estimate. For example the lab originally priced the CMRR at $660 million in 2004, but that cost increased almost 10-fold in 8 years. The flip side is that when the lab doesn't want to do something it grossly inflates the cost estimate, such as its estimated $29 billion for comprehensive cleanup of Area G, a figure that even NMED officials ridicule in private.
"What we found is that comprehensive clean-up should cost around the same estimated $6 billion that the CMRR would have cost. But instead of $6 billion for an unneeded plutonium facility for expanded nuclear weapons production that wouldn't produce a single new permanent job, $6 billion for comprehensive clean up of Area G would be a win-win for New Mexicans. It would permanently protect the environment, groundwater and the Rio Grande while creating hundreds of long-term high paying jobs."
Read Jay's full remarks. (PDF)
Regional Coalition of LANL Communities website
---
Sequestration Updates
- 3/21: Kirtland AFB postpones sending 2,100 furlough notices
- 3/18: Hanford Nuclear Reservation Workers Laid Off As Sequestration Threatens To Slow Cleanup -AP
- White House fact sheet: Sequestration effects on New Mexico (PDF) / all states
- 2/22 "There's Plenty to Cut at the Pentagon" -William Hartung, CNN
- 2/22 LANL to Shelve Plans for CMRR due to 'current fiscal crisis' (Global Security Newswire)
---
DOE IG: LANL Cybersecurity Problems Persist
In a report released this month (February), the DOE IG found that "Network servers and devices were configured with default or easily guessed login credentials or required no authentication. For example, 15 web applications and 5 servers were configured with default or blank passwords . . . Additionally, two network servers had the possibility to accept connections from anybody without the use of authentication or similar access controls. Also, 10 network servers could have allowed unauthorized remote control."
Read our Watchblog post on the IG's report: How Do You Spell PASSWORD? - LANL Gets Bad Cyber Report
---
---
B-61 Nuke: Worth 1.5 times it's weight in gold
Each 700-pound B61 nuclear bomb will soon be overhauled at a price tag of $28 million. But 700 lbs. of solid gold is currently worth only $15.5 million. It would actually be cheaper to make the B61 nuclear bomb out of gold. Use his online form to tell your representative to cut B61 funding!
---
---

On Making Contact: Women Rising: Audiocast:
International Anti-Nuclear Activists Speak
With: Kaori Izumi, who led the grassroots campaign to shutdown Japan's nuclear power plants after the Fukushima disaster; Winona LaDuke, working to oppose uranium mining on indigenous lands; and Alice Slater, a leader in the global initiative to ban nuclear weapons. (listen to show)
---
On The Watchblog:
Lab Lacks Ability To Estimate Emergency Response As It Also Underestimates Risk
LANL Radiation Risks 'Sharply Underestimated'
A report by the Defense Nuclear Facilities Safety Board found that Los Alamos Labs has sharply underestimated the amount of radiation that could leak from the facility as a result of an earthquake.
The New Mexico laboratory's analysis included "multiple, substantial deficiencies," wrote Peter S. Winokur, chairman of the advisory board. (source: POGO)
LA Times coverage: Radiation Risk Underestimated
AP/Santa Fe New Mexican coverage: Oversight board questions Los Alamos lab radiation risk
---
Stanrock Mill Tailings Area, Elliot Lake, Ontario, 1986. The 30-foot high wall of white sand behind the trees is made up of uranium tailings. Over 130 million tons of these tailings have been deposited in the Elliot Lake region and have contaminated the entire 58-mile long Serpent River system, finding their way into Lake Huron. (Photo: Robert Del Tredici.)
Pandora's False Promises:
Busting the pro-nuclear propaganda
May 14. Report released by Beyond Nuclear to counter the nuclear energy myths advanced in the documentary "Pandora's Promise", and the pro-nuclear propaganda in circulation generally. Designed as a central source for the facts of nuclear power which are either ignored, obscured, or mis-represented by the nuclear deniers, with sections on climate change, health effects, Germany's renunciation, and France's dependency, the flaws and impracticalities of the "new" reactor designs, and the various misleading arguments made by the pro-nuclear propagandists, from base load energy to bananas.
View/download the full report (PDF)
2-page executive summary (PDF)
Press release (PDF)
---
Danger Zone: Aging Nuclear Reactors
Above: AJZ survey: safety of US nuclear reactors.
May 23- Nuclear Regulatory Commission Chairman Jaczko Resigns, After Push by Industry
June 11- Court: Nuclear Regulatory Commission Must Assess Spent Fuel Storage Dangers.
July 5- Fukushima Disaster Caused By Industry's 'Cozy Relationship' With Regulators - Bloomberg News.
August 13- Atomic Scientists interview with Allison Macfarlane, new chairman of the NRC.
April 8- Ex-NRC Chief Jaczko: All US Reactors Have Flawed Design
---
Who Will Claim Ronald Reagan's Mantle On
Nuclear Disarmament Today?
"We seek the total elimination one day of nuclear weapons from the face of the Earth."
-Inaugural Address, 1985
"A nuclear war cannot be won and must never be fought. The only value in our two nations possessing nuclear weapons is to make sure they will never be used. But then would it not be better to do away with them entirely?"
-1984 State of the Union
"My dream is to see the day when nuclear weapons will be banished from the face of the Earth."
-from "Ronald Reagan and His Quest to Abolish Weapons,"
by Paul Lettow
"For the eight years I was president I never let my dream of a nuclear-free world fade from my mind."
-Reagan Memoirs, "An American Life"
(Read more of "Ronald Reagan, Republicans, and Nuclear Weapons" by Jonathan Granhoff, President, Global Security Institute)
---
State Dept. Top Award to Bombshelltoe.com

Ms. Lovely Umayam, a graduate student at the Monterey Institute of International Studies has been awarded the first prize in State's "Innovation in Arms Control Challenge". Ms. Umayam developed "Bombshelltoe", an online education platform that examines the intersection of culture and nuclear issues in order to facilitate better public understanding of basic nuclear and arms control-related issues. (Global Security Newswire, 3/15/13)
- NWFZs: "Primer: Nuclear-Weapon-Free Zones Exist"
---