Arsenal of Information
---
---
---
New Infographic page:
Nuclear Testing Since 1945
---
Nuclear Watch Interactive Map of the
Nuclear Weapons Complex- View full size
Facilities:
Facilities:
Kansas City Plant
Lawrence Livermore National Labs
Los Alamos National Laboratory
Nevada National Security Site
Pantex Plant
Sandia National Laboratories
Savannah River Site
Washington DC
Waste Isolation Pilot Plant (WIPP)
Y-12 National Security Complex
Follow the Money!

---
NNSA FY 2015 Budget Request
- Nuclear Watch Analysis/Compilation (PDF)
- Nuclear Watch New Mexico's analysis (PDF)
- NNSA's FY 2015 budget
- Best press coverage
---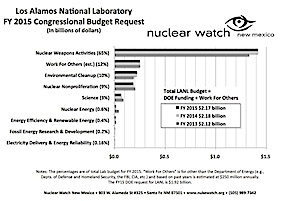 LANL FY 2015 Budget Request
Click to view full PDF incl. annotations
---
Congressional Budget Office report:
Projected Costs of Nuclear Forces 2014-2023

CBO presentation based on the report:


Click to view presentation
---
Nuclear Watch Press Release, Jan.14, 2014:
Budget Deal a Mixed Bag for Nuclear Weapons Programs- Planned Long-Term Trend Not Sustainable
View/download press release PDF
View/download the appropriations bill (n.b. NNSA section begins p.34; the PDF at p.70)
---
Nuke modernization - sequestration disconnect
Into Thin Air
"Congress and Obama are planning Reagan-era expenditures to modernize U.S. nuclear weapons under sequestration-era budgets. What could possibly go wrong?"
Jeffrey Lewis looks at the numbers and finds they don't add up. Something will have to give... (article)
---
New CBO Report Dec 20, 2013:
U.S. nuclear weapon plans to cost $355 billion over a decade
Reuters: The Obama administration's plans for the U.S. nuclear weapons complex, including modernization of bombs, delivery systems and laboratories, will cost the country about $355 billion over the next decade, nearly $150 billion more than the administration's $208.5 billion estimate in a report to Congress last year; since the modernization effort is just beginning, costs are expected to greatly increase after 2023. (read more) (View/download CBO report-PDF) (analysis: Are New Nuclear Weapons Affordable?)
---
Nuclear Watch Press Release, Dec. 21, 2013:
Nuclear Weapons "Modernization" Will Cost One Trillion Dollars Over Thirty Years; Locally, Los Alamos Lab Cleanup and Job Creation Are Imperiled
(View/download NWNM Press Release PDF)
---
---
Stockpile Stewardship and Management Plan: Fiscal Year 2014
View/Download PDF

Related:
The "3+2 Vision" for U.S. Nuclear Forces
John R. Harvey of the Department of Defense spoke to a breakfast seminar in Washington DC June 13 on "...progress we have made over the past year, under the auspices of the DOD-DOE Nuclear Weapons Council, in advancing what we call the '3+2' vision for the future nuclear stockpile, and in developing a 'baseline plan' to start down the path to get there."
View/download full text of Harvey's remarks (PDF)
---
"No decrease in the number of warheads"
- Senator Diane Feinstein, speaking on a conference call November 13th: "While I support reductions to the stockpile and the savings that come with it, the 3+2 plan requires spending tens of billions of dollars more on life extension programs as well as increasing technical risks such as design changes... The promise of the 3+2 plan was to provide a smaller stockpile in exchange for a larger investment. However, when the plan is examined, there is no decrease in the number of warheads... In addition, sequestration, shrinking budgets and NNSA's long history of cost overruns and schedule delays raise serious concerns about the agency's ability to execute this mission." (ref)
---
---
$1 Billion for a Nuclear Bomb Tail
Hans M. Kristensen, April 12, FAS/Strategic Security
Update Feb 4: Tailkit assembly successfully tested
---
Nuclear Weapons Lobby Reportedly Spent $2.9 Million To Stave Off Military Cuts

"The nuclear weapons industry is erecting a missile shield of money to prevent federal government spending cuts worth billions of dollars. In the 2012 election cycle, nuclear weapons lobbies have given a total of $2.9 million to key members of Congress and deployed no fewer than 137 revolving-door lobbyists to Capitol Hill, according to a new report that details the lengths to which arms makers will go to protect their turf." (story)
"Bombs Versus Budgets: Inside the Nuclear Weapons Lobby", prepared by the Center for International Policy. (download PDF)
---
Successful Citizen Activism Against
Expanded U.S. Plutonium Pit Production
This is the unsung story of successful citizen activism against repeated government attempts to expand the production of plutonium pit cores, which has always been the choke point of resumed U.S. nuclear weapons production. This history is a critical part of the march toward a future world free of nuclear weapons. We gratefully dedicate it to Leroy Moore, longtime activist with the Rocky Mountain Peace and Justice Center, and J. Carson Mark, retired director of the Los Alamos Lab's Theoretical Division and ardent arms control advocate.
(View/download full report- PDF)

---
Cost Comparison Debunks LANL's Outrageous Cleanup Estimate
Can it possibly cost $29 billion to clean up 51 acres? (That's $568.6 million per acre!) The answer is yes if the estimate comes from Los Alamos National Laboratory.
NukeWatch has run cost comparisons between the estimate for Area G and two other excavation projects at the Lab. At six acres, excavation of Materials Disposal Area B is almost complete, so we have hard costs. (It is around $22.7 million per acre.) An evaluation of Materials Disposal Area C was released this September. The estimated costs for excavation of the 11.8-acre site came out to be $66.7 million per acre. Read the Cost comparison here.
GAO: accounting problems at DoD so significant that a federal audit cannot be done.
Read the January 17, 2013 GAO Report
---
Nuclear Watch Media
---
See the NukeWatch YouTube channel
for our collection of videos.
---
Jay Coghlan on the Nuclear Defense Industry
KSFR Santa Fe: Living on the Edge, October 17, 2013. David Bacon with Jay Coghlan, NukeWatch E.D. (online podcast)
---
Atomic Histories:
The schematic diagram for a German atomic bomb was discovered by Rainer Karlsch early in 2005
Why the Nazis Never Built an Atomic Bomb
gmoke's June 28 post to The Daily Kos has stirred up an interesting discussion...
Related:
-Paul Rogers at Forbes: Search Is On For Hitler's Secret Atom-Bomb Lab Under Death Camp
Dail Mail UK: Did US fake top Nazi's WWII suicide and spirit him away to get hands on Hitler's secret weapons programme?
---

Recent visitors - click to enlarge
---
"The people who are the most anti-nuclear are the ones who know the most about it." -Eric Schlosser, author, "Command and Control" (ref)
---
Please help NukeWatch in our work to rid the world of the dangers of nuclear weapons. We need your support! Consider making a tax-deductible donation to support our efforts. Thank you!
See our donations page for more info
New & Updated
---
July 31, 2014:
Policy Specialist James Doyle Fired by LANL for Nuclear Weapons Critique and Support of Obama's Reduction Goals
"It sure looks like he's being fired for supporting the President's policy." -Jon Wolfsthal, special adviser on nuclear matters to Vice President Biden, 2009 to 2012
" ... two members of a Security Inquiries Team abruptly arrived with a special, silver-colored briefcase for secure documents, and pulled out an article he published a few days earlier on the website of a London nonprofit group.
"They claimed that the article, an impassioned critique of the political theories undergirding the nuclear arms race and a defense of President Obama's embrace of a nuclear weapons-free future, contained classified information.
"The assertion astonished Doyle, since the laboratory's security authorities had already reviewed the article and declared it unclassified. But it was the start of a series of events in which Doyle first had his pay docked and his security clearance withdrawn, and then eventually was fired."

- Read more: Nuclear Weapons Lab Employee Fired After Publishing Scathing Critique Of The Arms Race
- See Doyle's original 2013 article: "Why Eliminate Nuclear Weapons?"
James E. Doyle, a nuclear security and non-proliferation specialist, had been at Los Alamos National Laboratory for 17 years. He is the editor of Nuclear Safeguards, Security, and Nonproliferation: Achieving Security With Technology and Policy (Elsevier, 2008).

---
Related: Nuclear Watch NM Press Release July 31, 2014:
LANL Fires Nonproliferation Specialist; Lab Abuses Classification Procedures to Restrict Nuclear Weapons Abolition Message
"Santa Fe, NM - Today, the Center for Public Integrity broke a story on how Los Alamos National Laboratory (LANL) fired its nonproliferation specialist James Doyle. That firing followed an inquiry by the Center to senior Lab management about a study Doyle completed in his personal capacity arguing for the abolition of nuclear weapons. LANL retroactively classified his report, which Nuclear Watch believes is a clear abuse of proper classification procedures..."
(View/download PDF)
---
Letter From Prison: Sister Rice, Gregory Boertje-Obed, and Michael Walli:
"... Most surprisingly, our July 2012 action and our court cases have revealed that it is not the U.S. government that is in control of the nuclear weapons complex, but in reality it is the corporations that are in control through their solicitation and manipulation of endless funding for the refurbishment of unlawful thermonuclear warheads. We three are incarcerated because we stood up to a nuclear weapons industry that is kept thriving by the interlocking and obsolete institutions that subscribe to the long-discredited notion that law and security can be enforced by ever-greater force..." (Read the full letter here)
---
"...nothing but a miracle has prevented an accidental Hiroshima or Nagasaki taking place on US soil."- The Guardian 9/20/13
69 Years of 'Sheer Luck and Divine Intervention'
This week will mark the 69th anniversary of the first detonation of an atomic bomb, in the southern New Mexican desert on July 16, 1945. It was the first appearance of what would become, in the words of JFK, "a nuclear sword of Damocles hanging by the slenderest of threads, capable of being cut at any moment by accident, miscalculation, or madness..."
General Leslie Groves, director of the Manhattan Project, was present at the test and described it as "successful beyond the most optimistic expectations of anyone."
Deseret News notes: "...The U.S. record with nuclear weapons has not always been quite as 'successful' as its first atomic test. In fact, the U.S. has had several close encounters with its own nuclear weapons that could easily have ended in disaster."
See the compilation: 13 Times the U.S. Almost Destroyed Itself with Its Own Nuclear Weapons
---
Nuclear Watch New Mexico Press Release June 27, 2014:
Missed WIPP Deadline May Put Real Cleanup at LANL Back On Track
"After granting more than one hundred extension requests to delay cleanup, we salute the New Mexico Environment Department for denying further requests. We encourage NMED to enforce what it already has, and make LANL comply with its legally mandated cleanup order. This in turn will drive increased federal funding for genuine cleanup at the Lab, creating hundreds of jobs while permanently protecting our precious water and environment." (View/download the 6/27 press release)
---
"Massive" Upgrade For B-2 Stealth
June 25:
Air Force officials have started planning a ten billion dollar modernization of the B-2 stealth bomber fleet to include a new receiver using VLF waveform technology that allows the bomber to receive messages in the event of a high altitude electro-magnetic pulse, and outfitting the aircraft for next generation digital nuclear weapons such as the B-61 Mod 12 with the new tail kit, and Long Range Stand-Off weapons- (air-launched nuclear cruise missiles).


The B-2 "Spirit" was first produced in 1989 at a cost per plane of $2.2 billion. The Air Force had expected to field a fleet of over 130 B-2s, but failures by Northrop Grumman and the Air Force to keep it under budget, along with the end of the Cold War, led the Pentagon to cut the fleet to 21.

Kris Osbor, writing in DODBuzz.com, spoke with Eric Single, chief of the Global Strike division for Air Force acquisition. In addition to the LRSO, B83 and B-61 Mod 12, the B-2 will also carry the B-61 Mod 11, a 'penetrator' nuclear weapon, and a wide range of conventional weapons, including precision-guided 2,000-pound Joint Direct Attack Munitions, or JDAMs, 5,000-pound JDAMs, Joint Standoff Weapons, Joint Air-to-Surface Standoff Missiles, GBU-28 5,000-pound bunker buster weapons, and the 30,000-pound conventional bomb known as the Massive Ordnance Penetrator. (ref)
---
Defense Bills Would Create Separate Fund for New Ohio-Class Nuclear Subs

Each U.S. strategic submarine has 16 missile tubes. Each missile can carry up to 14 independently targeted nuclear warheads, each more than 6 times as powerful than the Hiroshima atomic bomb.
"Far-reaching implications"
"The creation of a National Sea-Based Deterrence Fund to pay for an Ohio-class ballistic missile submarine replacement could significantly alter the typically underfunded Navy shipbuilding account, while also establishing a precedent that other military services may attempt to leverage in years to come.
"Gordon Adams, who once oversaw the Pentagon's budget while at the OMB, noted that the implications are far-reaching. He argues that the Air Force might seek a separate account for a new strategic bomber or a new intercontinental ballistic missile, and the Navy might seek an account for a Trident ballistic missile replacement, all programs with national strategic military implications..." -Frank Oliveri, CQ Roll Call, 6/9/14
See also: July 11, 2014, Lawrence Wittner,
"A New Generation of Nuclear Subs"
Related, October 2013:
How to Avoid a $60 Billion Bailout for Navy Submarines
Benjamin Loehrke, Roll Call, Oct. 1:
"The Navy is at the brink of its own fiscal crisis and is looking for a bailout. A proposed fleet of 12 new ballistic missile submarines- costing $100 billion total- could bust the Navy's shipbuilding budget and force cuts to the surface fleet... So the Navy has asked the cash-strapped Pentagon to pay for the nuclear-armed subs. Throwing money at this problem will not make it affordable. Instead, the Pentagon needs to resize the sub program with the understanding that the U.S. can meet today's security challenges with fewer nuclear weapons at less cost.
"A single Trident submarine is the sixth largest nuclear nation in the world all by itself" - Rear Adm. Joseph Tofalo, commander, Submarine Group 10. (read more)
---
The Republic of the Marshall Islands has filed suit against the nuclear powers in the International Court of Justice in The Hague, charging violation of the Non-Proliferation Treaty. A federal lawsuit was also filed against the US in San Francisco.
"It is clear that the nuclear-armed states are not pursuing negotiations in good faith to end the nuclear arms race and to achieve complete nuclear disarmament, as they are obligated to do under Article VI of the treaty... Instead of negotiating disarmament, the nine countries are modernizing their nuclear arsenals, spending $1 trillion on those arsenals over the next ten years." -Foreign Minister Tony deBrum. (ref)
The Marshall Islands were subjected to 67 atomic and thermonuclear detonations between 1946 and 1958, including the Bravo test, the largest ever carried out by the US.
More on the lawsuit:
- Nuclear Zero's interactive presentation
- The Nuclear Zero Lawsuits: Who Will Speak for the People?
---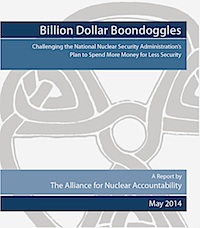 Alliance For Nuclear Accountability Report May 2014:
Billion Dollar Boondoggles
Challenging the National Nuclear Security Administration's Plan to Spend More Money for Less Security
"The National Nuclear Security Administration's program to 'modernize' the US nuclear weapons is a dramatic failure. The Department of Energy (DOE) has conceded the collapse of plans to build major new production facilities at Los Alamos and Oak Ridge, along with the MOX program at Savannah River. In Congress, there is substantial pushback against the exorbitant cost of weapons modifications that could compromise the reliability of the US stockpile. Yet the National Nuclear Security Administration (NNSA) continues to mislead Congress by obscuring the true cost of modernization and ignoring the grave risks inherent in the program." View/download the ANA report (PDF)
---

Nuclear Modernization Briefings at the NPT Conference in New York
Hans Kristensen, FAS:
"Last week I was in New York to brief two panels at the Third Session of the Preparatory Committee for the 2015 Review Conference of the Parties to the Treaty on the Non-Proliferation of Nuclear Weapons (phew!).
"The first panel was on "Current Status of Rebuilding and Modernizing the United States Warheads and Nuclear Weapons Complex", an NGO side event organized on May 1st by the Alliance for Nuclear Accountability and the Women's International League for Peace and Freedom (WILPF). While describing the U.S. programs, I got permission from the organizers to cover the modernization programs of all the nuclear-armed states... it puts the U.S. efforts better in context and shows that nuclear weapon modernization is global challenge for the NPT.:
Nuclear Weapons Modernization Programs of Nuclear-Armed States
View download presentation (PDF)
"The second panel was:
The Future of the B61: Perspectives From the United States and Europe.
"This GNO side event was organized by the Nuclear Age Peace Foundation on May 2nd. In my briefing I focused on providing factual information about the status and details of the B61 life-extension program, which, more than a simple 'life-extension', will produce the first guided, standoff nuclear bomb in the U.S. inventory, and significantly enhance NATO's nuclear posture in Europe." View download presentation (PDF)
---
Arms Control Association Issue Brief May 6 2014:
NNSA's '3+2' Nuclear Warhead Plan Does Not Add Up
"In March, the Obama administration announced it would delay key elements of its "3+2" plan to rebuild the U.S. stockpile of nuclear warheads amidst growing concern about the program's high cost and its technically ambitious approach.

Announced last summer by the National Nuclear Security Administration (NNSA), the 3+2 strategy has a sticker price of $60 billion and calls for extending the service life of five nuclear warhead types, three of which would be "interoperable" on land-based and sea-based ballistic missiles. Two other warhead types would be used on bombers, and two types would be retired.


"Congress, on a bipartisan basis, has been skeptical of 3+2 from the start, particularly the proposal for interoperable warheads. The Senate Appropriations Committee wrote last year that the concept "may be unnecessarily complex and expensive, increase uncertainty about certification" and "fail to address aging issues in a timely manner."
"In response to congressional concerns, the NNSA budget request for fiscal 2015 delays funding for much of the 3+2 program, putting the future of the plan in doubt.
"It is time to rethink the 3+2 plan. It is too expensive to survive in the current budget climate, takes unnecessary risks with warhead reliability, and has no clear military requirement. It is a solution in search of a problem.
"The good news is that we don't need 3+2. The current warhead life extension program (LEP) is successfully refurbishing warheads, and there is no need to adopt a more risky and exorbitantly expensive approach. NNSA can and should stick with the traditional path to warhead maintenance, and save tens of billions of dollars."
Read the full Issue Brief from the Arms Control Association, Vol. 5, Issue 6, May 6, 2014.
---
New Report: U.S. Nuclear Weapons Agency Claims Phony Budget Savings; Misleads Congress and Taxpayers About Real Costs of New Warheads; Nonproliferation and Dismantlement Programs Cut
NWNM Press Release April 30:
- The House Armed Services Committee is objecting to delays in- but not the substance of- Department of Energy plans to heavily modify existing nuclear weapons during "Life Extension Programs" to create new nuclear warheads.
- DOE's FY 2014 "Stockpile Stewardship and Management Plan" (SSMP), which first introduced these new warheads, caused considerable sticker shock in Congress.
- Now DOE has released a new FY 2015 SSMP that it claims is "generally affordable and more executable than the program proposed in the FY 2014 SSMP."
- However, an analysis by Nuclear Watch New Mexico concludes that DOE's new sales pitch is based on overly optimistic claims and outright omissions that should alarm Congressional budget hawks. View/download the NWNM 4/30 press release (PDF)
View/download NWNM's analysis of the FY2015 SSMP (PDF)
View/download an executive summary of NWNM's analysis of the FY2015 SSMP (PDF)
---
Analysis: National Nuclear Security Administration 2015 Budget Request
Nuclear Weapons Budget Surpasses Cold War Record
- Up 20%: Bomb with New Military Capabilities
- Cut By Nearly Half: Dismantling Weapons
- Compromised: Nuclear Facility Safety
See NukeWatch's analysis and compilation of NNSA nuclear weapons and nonproliferation programs budgets and individual site funding.

March 25, Santa Fe. Contrary to President Obama's rhetoric about a future world free of nuclear weapons, most famously expressed in his April 2009 speech in Prague, the President is asking for a 7% increase for nuclear weapons research and production programs under the Department of Energy's semi-autonomous National Nuclear Security Administration (NNSA). NNSA's "Total Weapons Activities" are slated to rise to $8.3 billion in FY 2015, and to $9.7 billion by FY 2019, 24% above this current fiscal year 2014.





Center for Arms Control and Non-Proliferation

The Obama Administration asserts that its FY 2015 budget request meets the two-year budget agreement reached with Congress in last December's Bipartisan Budget Act. However, the Administration is also proposing a $56 billion Opportunity, Growth and Security Initiative (OGSI), that it claims is fully paid for through "a balanced package of tax loophole closers and spending reforms." OGSI will be split evenly between defense and non-defense spending, out of which $504 million will go to NNSA nuclear weapons programs "to accelerate modernization and maintenance of nuclear facilities" and $96 million to nonproliferation programs. With that, Obama's FY 2015 budget request sets a new record for Department of Energy nuclear weapons spending, even exceeding the Cold War high point in 1985 under President Reagan's military buildup.
See March 17 Nuclear Watch Press Release on the FY 2015 Budget .
---
In Desperate Need of Spring Cleaning? The US Nuclear Complex
March 20, 2014, Amanda Waldron, Ploughshares.org
"While the rest of the nation is concerned with shrinking budgets,
incompetence among the nuclear personnel, and pullback from wars abroad, the Obama Administration's FY 2015 budget inexplicably calls for an increased nuclear weapons budget. Even more disturbingly, the Administration is calling for a decrease in programs to stop the spread of nuclear weapons and a slowdown in the dismantlement of nuclear weapons that we've already committed to destroying.
"To get an expert view, we talked to our grantee, Executive Director Jay Coghlan of Nuclear Watch New Mexico. Here, he describes how the time is ripe for reform to the American nuclear weapons complex..." more at Ploughshares.org
---
More on NNSA FY 2015 Budget
- Kingston Reif, Center for Arms Control and Non-Proliferation: Fact Sheet: FY 2015 Budget Request for Replacement Nuclear Delivery Systems and Warhead Life Extension Programs
- More analysis and critiques here
---
---
"If you really want a future world free of nuclear weapons, you can hardly make a better investment than to give to Nuclear Watch New Mexico. They need and deserve your support so that they can carry on their groundbreaking work. I urge you to be generous with them!" - Danielle Brian, Executive Director, Project on Government Oversight.
Please support our work! Donations are tax-deductible
---
Critical Events

---
August 2, 2014
Pax Christi Sack Cloth and Ashes
Join Pax Christi New Mexico for the annual Hiroshima Day Event & Sack Cloth & Ashes Demonstration on Saturday August 2nd at 2pm at Ashley Pond in Los Alamos. (more info)
August 6, 2014:
Webinar: The Nuclear Zero Lawsuits
Why tiny Marshall Islands took on the Nuclear Nine
A webinar presented by Women's Action for New Directions and the Nuclear Zero consortium Wednesday, August 6, 2014 3:00 PM - 4:00 PM EDT (more info)
August 6 & 9, 2014:
Hiroshima & Nagasaki Commemorations
Nationwide events calendar, host an event, more info...
---

Hiroshima Notes:


"Strange, Rod-shaped Black Fingernails"
"Yoshio Hamada, then 26, was exposed to the bomb in his barracks 900 meters from the hypocenter. His left hand was on the windowsill when the bomb exploded, and the middle and fourth finger on his left hand, which were exposed directly to the heat rays, were burned so badly that the skin and nail peeled and hung from his finger tips. He lost about one centimeter off the ends, and ever after, strange rod-shaped black nails like these grew directly from the skin at the end of those fingers. These nails, unlike normal fingernails, contained active blood vessels. When the nails broke, large amounts of blood poured out. And after a nail broke off, the same sort of nail continued to grow."
ref: Hiroshima Peace Museum exhibit
---
TV treatment of Los Alamos Manhattan Project
WGN America's "Manhattan" drew 1.8 million viewers for it's premiere Sunday evening July 27. The series has been filmed on location on the outskirts of Santa Fe, a short drive from Los Alamos. (series website)
---
Quote of the Week

---

"Nuclear weapons are basically like Americans'
T-Rex arms, they're essentially useless and you are plenty scary enough without them." -John Oliver
-Last Week Tonight, July 27, 2014: Nuclear Weapons
John Oliver: Nuclear Weapons
Oliver lays it all out- with humor...
---
Nuclear News
---
---

NM Sen. Tom Udall presses for funding B61 upgrade, expanded plutonium facility
"...I want to thank you for your continued advocacy for the B61 Life Extension Program, this program is important to our national security, and I believe the scientists and engineers at our national labs have made great progress in this endeavor..."
---
LANL's Central Mission
Los Alamos Lab officials have recently claimed that LANL has moved away from primarily nuclear weapons to "national security", but what truly remains as the Labs central mission? Here's the answer from one of its own documents:
LANL's "Central Mission"- Presented at: RPI Nuclear Data 2011 Symposium for Criticality Safety and Reactor Applications
(PDF) 4/27/11
---
With ICBM Mission Increasingly Irrelevant, Morale is Low and Failures Multiply
Malmstrom Air Base: Senior Commander Resigns, Nine Mid-Level Commanders Fired
Time: Air Force Applies a Band-Aid to a Sucking Chest Wound
See our selection of press coverage and commentary here.
---
The Mark 17 (replica)- the H-Bomb dropped on Albuquerque
---
Radioactive Quotes

---
"My favorite little known fact in history was that in May of 1957, an American bomber dropped an American 42,000 pound, 10-megaton hydrogen bomb on Albuquerque, New Mexico."

Kat Lightman's response to the Quora question, "What is an interesting fact of history that most people don't know?"

[link]
"Once again this year, the nuclear weapons-possessing states took little action to indicate a genuine willingness to work toward complete dismantlement of their nuclear arsenals..."

Shannon Kile and Phillip Patton Schellin, writing in 2014 Stockholm International Peace Research Institute [SIPRI]report.

[link]
---